Hays, KS
Site survey report
Vidal Salazar and Maureen Donovan visited Hays, KS and the rural area around McCraken, KS to conduct a site survey for the upcoming PECAN field deployment. The site survey took place September 18-19, 2014.
S-PolKa Site near McCraken, KS
Maureen and Vidal meet with Roger Legleiter, the land owner of the property that was identified as a suitable location for the deployment site of the S-PolKa Radar.
Roger's land is located just SE of the town of McCraken, KS on HW 4 between County Road 120 and 130.
S-PolKa to be at ~0.26 miles east of CR 130 on the north side of Hwy 4.
The Google Earth coordinates are:
Lat: 38.553164
Lon: -99.535739
Elevation: 2160 ft
- Roger is onboard with allowing us to setup the S-PolKa site on his property for a fee.
- Roger would like his property to be returned to the original state.
- Roger would like reassurance that the water terraces in his property would not be damaged, and if they are, they will be returned to their original state.
- All these requirements were noted and will be communicated to UCAR contracts to be include on the land lease.
- Roger pointed out that there is an existing driveway on the middle of the property (see image below) that could be used if needed to.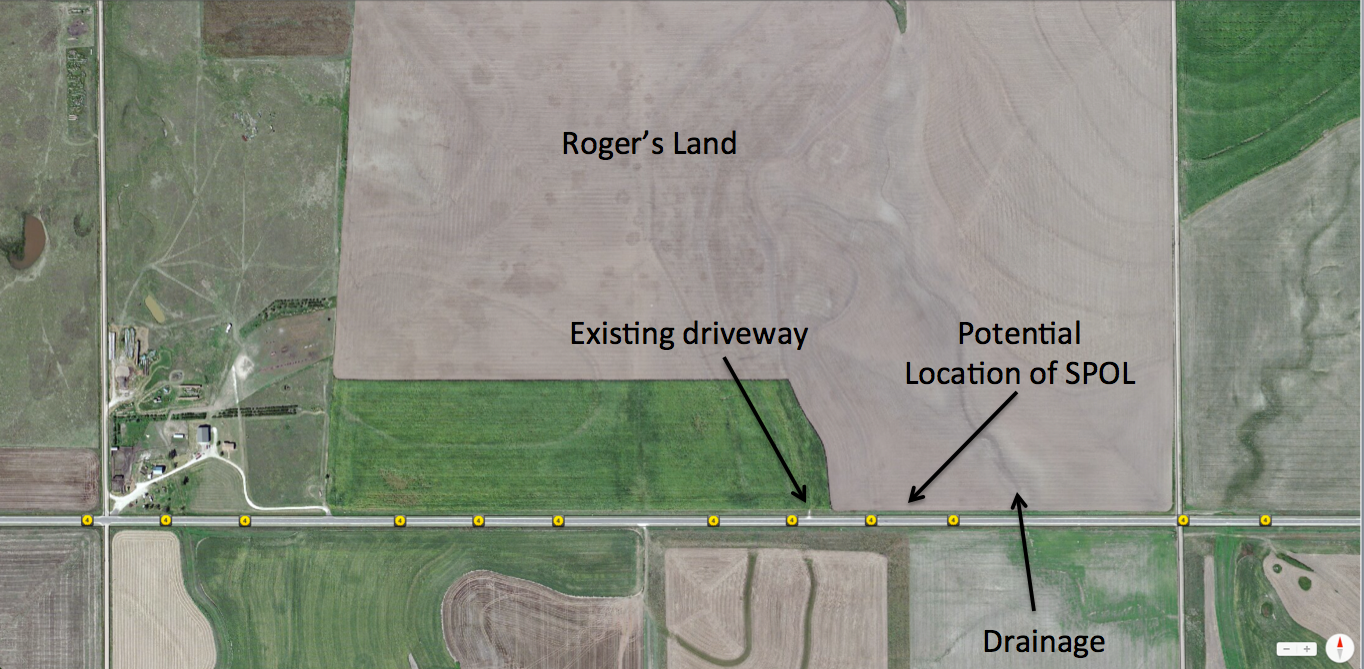 ---
FHSU Housing and Operations Center
Housing at FHSU
From Josh Wurman: The university (FSHU) will be offering only 5-10 2BR and 4BR apartments with full kitchens. That is far fewer than our demand. (They are meeting on 10 October to formalize the number and send us a letter.)
FSHU will be offering us ~infinity suites in a nearby building (TBD). These suites have 3-4BR and 2bath, we are getting clarification, but we believe that we would only pay for the
BR we use, so we can definitely put 2 people in a suite and they would have individual bathrooms.  We may be able to put 1 person in a suite, and it would be fully private.  The suites have kitchenettes.
The rates are all below the Federal per diem levels, even with reduced occupancy.
Apartments are: 2BR: $1120/month   4BR:$2020/month
Suites are: "$25/night/bedroom" so "$50/night" if 2 occupy the suite.
Note from Vidal: We were unable to visit any of the units as they were beeing used by students.
A virtual tour of the facilities can be found here
PECAN Operations Center (potential sites at FHSU)
There are some potential sites for a PECAN Operations Center. The FSHU offered a variety of options that ranged from office space at the dorm rooms to meeting space at the University Memorial Center.
University Memorial Center
The video below shows room 2012 (Black and gold room), which is large enough for the PECAN group. (the room can hold >150 people on a conference setting. The video below shows the room.   (Update: All of the rooms at the University Memorial Center are heavilty used in the summer time. No rooms will be available during the PECAN deployment)
Meeting rooms at the Resident Life (located in the McMindes Hall building) 
The video below shows room MM2R located at the McMindes Hall Building, this room as shown in the video is setup for conferences and (as shown) can hold ~40 people. I am sure we can re-arrange the tables to accomodate more people.
The second part of the video, shows a multi use room that could potentially also be available for the PECAN daily meetings. This room is large and is equipped with audio visual equipment (projector, mics, etc). The room as shown, is setup as a place for students to hang out and rest.
Both rooms are available upon request from the Residential Life department.
NOTE: Other rooms around campus were explored to serve as an Operations Center, but we are unable to obtain 24/7 use of the facilities.
Housing outside of the FHSU campus
Hays has multiple hotels along the I-70 corridor that range from basic to super basic.  :)
During this site survey, we explored several hotels and settled on the one hotel that could potentially be a place to sleep and an Operations Center.
Holiday Inn Express & Suites Hays
For full information on this hotel, please visit their website. They have meeting space that is large enough to host a big operations center, See photo below: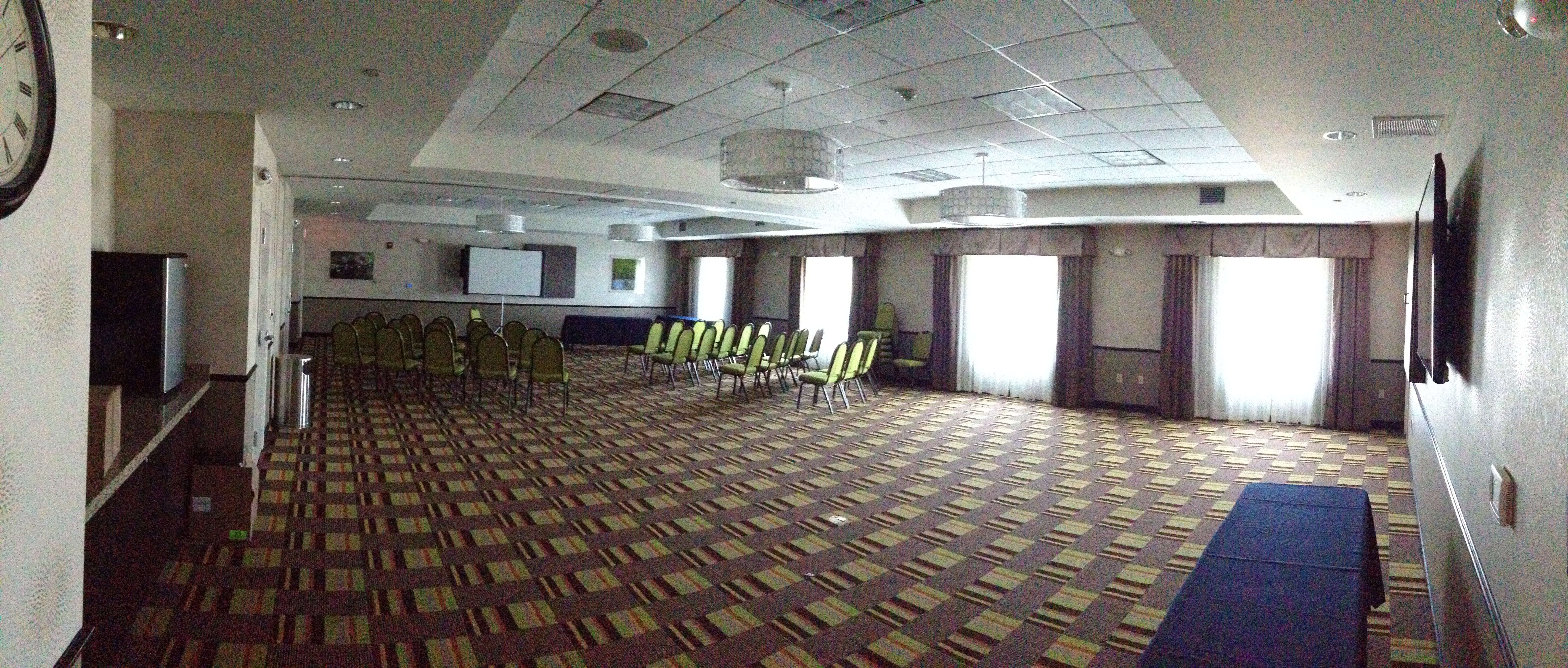 The hotel has microwave ovens and mini fridges in all rooms.  Please see below a video of one of their larger rooms.