EOL Seminar Series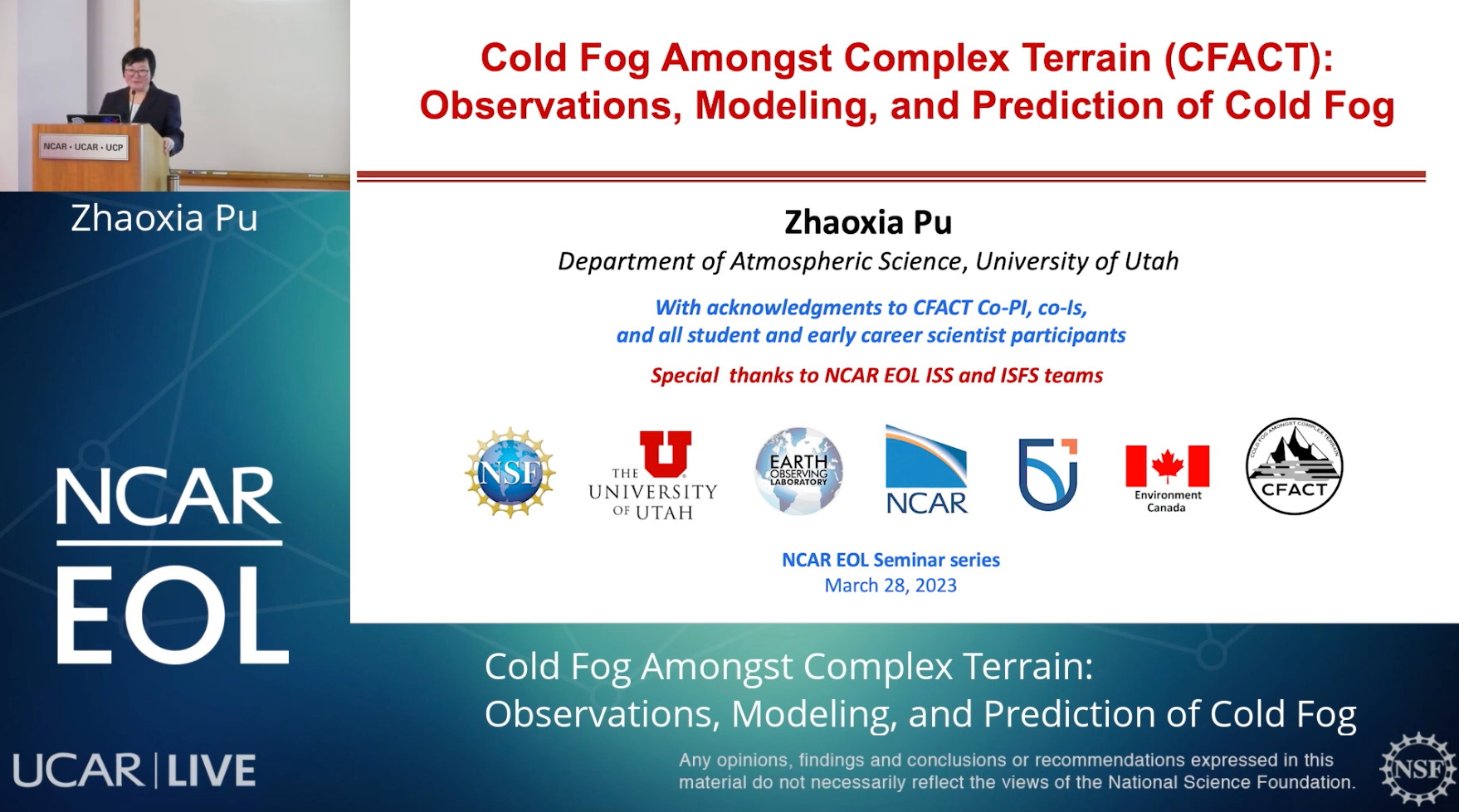 The hybrid EOL Seminars are held on Tuesdays from 3:30-4:30 pm MT. Talks are usually delivered in person at the NCAR Foothills Laboratory with all of the seminars webcast to allow for virtual participation. The seminar co-coordinators are Jacquelyn Witte (jwitte@ucar.edu) and Sarah Woods (sfwoods@ucar.edu).
Please contact us if you have questions, would like to present a seminar, have a visitor who would like to present a seminar, or have a suggestion for a seminar speaker or topic that we should cover.
UPCOMING SEMINARS
Tuesday, October 24, 2023, 330-430 MT
Dr. John Dennis - NCAR/CISL
Leveraging exascale technology to advance NCAR science within EOL
Abstract: An institution-wide team was formed to determine the best course of action concerning using exascale technology to advance NCAR's science objectives.  The end product of this evaluation was the creation of both a general and laboratory-specific set of recommendations regarding how exascale technology can advance our science objectives.  In our presentation, we describe science objectives that are potentially of interest to the EOL community that can benefit from the use of exascale technology. We also provide both NCAR-wide and laboratory specific recommendations to advance the EOL community's use of exascale technologies.
SEMINAR ARCHIVE
June 27, 2023
Dr. Gannet Hallar - University of Utah
Storm Peak Laboratory: 40+ Year History of this Mountain-Top Research Facility
May 16, 2023
Dr. Elise Rosky - NCAR ASP Graduate Student Visitor Program (Michigan Tech)
Small Ice Embryos and Large Cloud Droplets: From molecular simulations of water to airborne measurement of cloud droplets.
May 9, 2023 (Joint EOL/MMM Seminar)
Dr. Ulrike Romatschke - NCAR EOL Remote Sensing Facility
3D Convective-Stratiform Echo Type Classification and Convectivity from Radar Reflectivity
April 25, 2023 (Joint EOL/MMM Seminar)
Dr. Paul Lawson - SPEC, Inc.
The Secondary Production of Ice in Cumulus Experiment (SPICULE)
April 18, 2023 (Joint EOL/ACOM Seminar)
Dr. Nathaniel Brockway - University of Alaska
Vertical Profiles of Bromine Monoxide via Airborne Remote Sensing
March 28, 2023
Dr. Zhaoxia Pu - University of Utah
Cold Fog Amongst Complex Terrain: Observations, Modeling, and Prediction of Cold Fog
March 14, 2023
Dr. Dave Parsons - Oklahoma University
Nocturnal Convective Systems and their Broader Relevance to Weather and Climate
March 7, 2023
Dr. Mathieu Casado - Laboratoire des Sciences du Climat et de l'Environnement
The Isotopic Fingerprint of the Atmospheric Circulation in Ice Cores in Polar Regions
February 21, 2023 (Joint EOL/RAL Seminar)
Dr. John Hubbert - NCAR/EOL
Global Regression Filtering: A Long Overlooked Technique for Processing Time Series Data?
February 7, 2023
Dr. Jothiram Vivekanandan - NCAR/EOL
Airborne Polarimetric Doppler Phased Array Weather Radar: Digital Twin
January 17, 2023 (Joint EOL/ACOM Seminar)
Dr. Sara Lance - Atmospheric Sciences Research Center, University at Albany SUNY
Whiteface Mountain as a Natural Laboratory to Study Chemical Processing of Aerosols by Clouds
November 29, 2022
Dr. Paquita Zuidema - University of Miami
Earth, Wind and Fire: Defining the processes underlying smoke and cloud interactions over the south Atlantic
November 15, 2022
Prof. Alexander Kostinski - Michigan Tech
Glints, Glories, and Signals
October 11, 2022 (Joint EOL/CyPRESS Seminar)
Dr. Anna del Moral Mendez - ASP Postdoctoral Fellow, NCAR/EOL
Towards Improved Short-Term Forecasting for Lake Victoria Basin: Exploring HIGHWAY field campaign data
September 15, 2022 (In-Person Only)
Dr. Judd Welton - NASA Airborne Science Program
The NASA Micro Pulse Lidar Network: An overview of NASA's global ground-based lidar network
July 19, 2022
Dr. Jakob Mann - Professor, Head of Section, Department of Wind Energy, Meteorology, and Remote Sensing, Technical University of Denmark (DTU)
The Balconies Experiment: Studying large-scale atmospheric structures with dual doppler lidars
June 28, 2022
Dr. Chijun Sun - NCAR/EOL ASP Postdoc
Paleoclimate Perspectives on Great Plains Extreme Weather From Water Isotopes
May 24, 2022
Dr. Joshua Gebauer - University of Oklahoma
Methods and Strategies for Multi-Instrument Data Products From Next-Generation Boundary-Layer Observation Networks
April 26, 2022
Dr. Matthew Hayman - NCAR/EOL
Modern Signaling Processing Techniques for Atmospheric Sensors
April 19, 2022 (Joint EOL/CISL Seminar)
Dr. John Schreck - NCAR/CISL
Neural Network Processing of Holographic Images
March 29, 2022 (Joint EOL/CGD/MMM Seminar)
Dr. Minghui Diao - San Jose State University
Ice and Mixed-Phase Cloud Microphysical Properties and Aerosols Indirect Effects Based on Multi-Scale Observations and Climate Model Simulations
March 15, 2022
Dr. Junkyung Kay - NCAR/EOL
The Role of MPD Water Vapor Profiles in Improving Convective-Scale Weather Predictions
February 8, 2022
Dr. Holger Vömel - NCAR/EOL
Understanding Climate Processes in the Upper Troposphere and Lower Stratosphere Through Balloon-Borne Observations of Water Vapor and Ozone
January 18, 2022
Prof. Chantal Staquet - Université Grenoble Alpes
Characteristic Atmospheric Circulation in the Grenoble Valley (France) During Winter
↑ TOP ↑