EOL Organization
EOL's laboratory structure consists of our central directorate and five facilities, collectively managing and maintaining the LAOF to provide support for the wider NCAR community.
Our central directorate includes the Administration Group, Project Management Office (PMO), and Computing and Web Infrastructure Group (CWIG).
EOL Organization Chart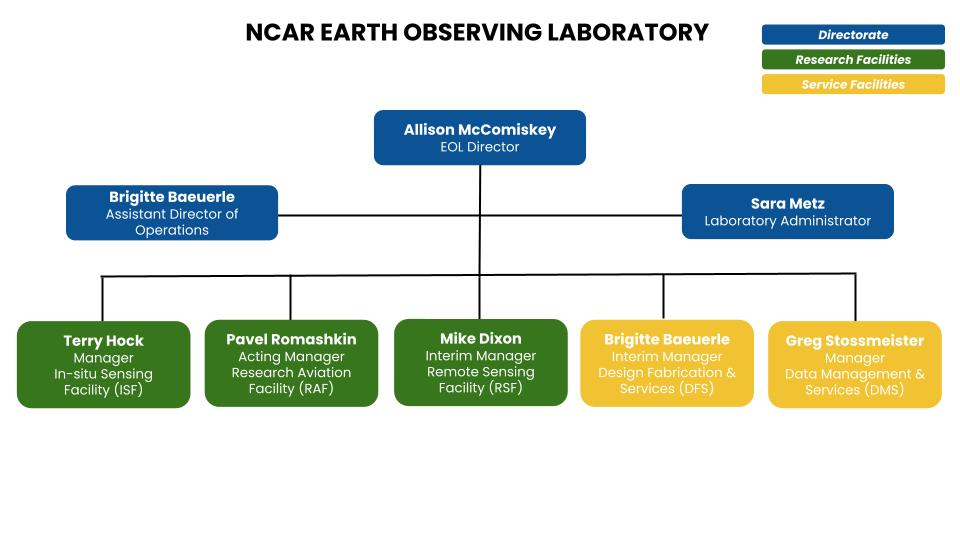 ---
EOL Directorate
Dr. Allison McComiskey
NCAR Associate Director/EOL Director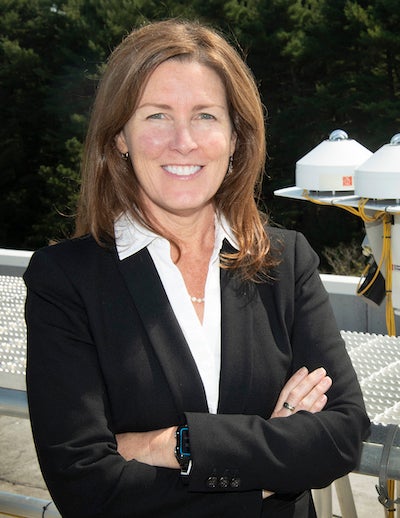 Allison McComiskey is the Lab Director and NCAR Associate Director in NCAR's Earth Observing Laboratory.  Allison will manage EOL's programs that focus on monitoring Earth's atmosphere through observational research, field project support, and data collection. She will also be responsible for ensuring the research community has access to the cutting-edge tools required to monitor the Earth system, such as aircraft, instrumentation (ground and airborne), software, datasets, and expert staff support.
---
Ms. Brigitte Baeuerle
EOL Assistant Director of Operations

Brigitte Baeuerle is the Assistant Director of Operations in NCAR's Earth Observing Laboratory. She oversees the day-to-day activities of EOL, providing guidance and supervision over core operational activities in EOL, including the planning and conduct of field campaigns, overall project management, system administration, communication within and outside of the Laboratory, and coordination between different EOL Facilities and groups. As Assistant Director, Brigitte represents EOL to federal agencies and other funding organizations within the scientific and engineering communities, to the university community, and internally within NCAR and UCAR. Brigitte, who grew up in Germany, received a MS in Oceanography from Oregon State University before joining UCAR in 1991, where she held several positions related to project management and operations. 
---
Ms. Sara Metz
EOL Laboratory Administrator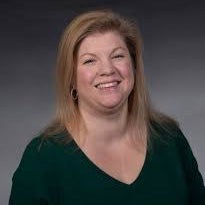 Sara Metz is the Laboratory Administrator in NCAR's Earth Observing Laboratory. With a BA in Economics from Smith College in Massachusetts, Metz joined UCAR in 2003 in the UCAR Office of Programs' Joint Office for Science Support (JOSS). She moved into the Earth Observing Laboratory in 2005 where she held several positions and many responsibilities. In 2013, Metz was appointed EOL Laboratory Administrator with responsibility for the laboratory budget, financial, and administrative management.
EOL Facility Management
Dr. Pavel Romashkin
Acting Research Aviation Facility (RAF) Manager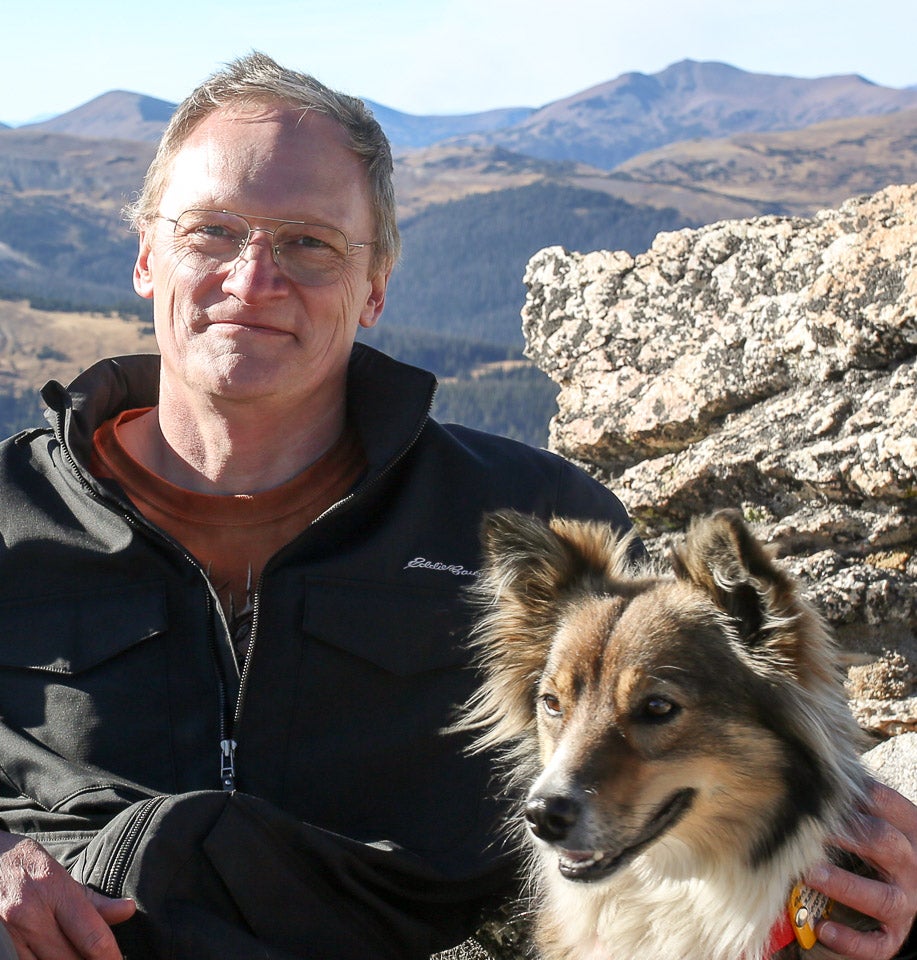 Pavel Romashkin is originally from Russia.  He received his M.S. degree in geochemistry from the Novosibirsk State University (Russia) in 1993 and his Ph.D. in geochemistry and paleoclimatology from the University of South Carolina in 1997. Pavel worked for NOAA Climate Monitoring and Diagnostic Laboratory from 1997 to 2004. His responsibilities were to operate, maintain and produce science quality data from gas chromatographs, ACATS and LACE, operated by the laboratory aboard the NASA ER-2, WB-57 aircraft and on high altitude stratospheric balloons. From 2004 to present Pavel has been working as a project manager at the NCAR Research Aviation facility.  Pavel's main responsibilities are assessing feasibility, organizing and implementing airborne field projects that utilize the NSF C-130 and Gulfstream-V aircraft, as well as reviewing and quality controlling the data from these projects.  Pavel is currently serving as the Acting Manager leading RAF Operations.
---
Dr. Michael Dixon
Remote Sensing Facility (RSF) Interim Manager

Mike Dixon has been a Software Engineer and Programmer IV for the NCAR Earth Observing Laboratory since 2010. He is currently serving as an Interim Manager leading RSF Operations. Mike has been with NCAR since 1990.
---
Mr. Terry Hock
In-situ Sensing Facility (ISF) Manager

Terry Hock is an Engineer IV within EOL and the Facility Manager of EOL's In-situ Sensing Facility. Terry has both a BS and MS in Electrical Engineering from the University of Colorado, with focus on Electromagnetic Theory. At NCAR since 1982, Terry has led several major instrumentation developments, primarily focused on dropsonde technology on manned and unmanned airborne systems. He has been involved with the dropsonde technology transfer for licensing to commercial companies, which has expanded the dropsonde technology worldwide to multiple international research institutions. Terry and his team have won numerous UCAR Technology Achievement Awards. In 2011 he won UCAR's Distinguished Achievement and the CO-LABS High-Impact Research in Atmospheric Research awards. 
---
Mr. Greg Stossmeister
Data Management and Services Facility (DMS) Manager

Greg Stossmeister is an Associate Scientist IV within EOL and the Facility Manager of EOL's Data Management & Services Facility. He received his BS in Physics from Edinboro University and his MS degree in Meteorology from Pennsylvania State University. Greg joined NCAR in 1984 and has been part of the Mesoscale and Microscale Meteorology Division, the Research Applications Laboratory and the Joint Office for Science Support before joining EOL in 2005. He has actively participated in more than 48 national and international meteorology, chemistry, tropical cyclone, and arctic sciences field projects during his career. During his tenure at EOL, Greg has overseen the development and deployment of the Field Catalog, one of NCAR/EOL's most requested facilities. He has been responsible for guiding the development of new catalog features and services, and frequently works with PIs in the field to customize the field catalog tools, products and services to meet the needs of field campaign researchers. 
---
Ms. Brigitte Baeuerle
Acting Design & Fabrication Services (DFS) Manager