DC3 makes use of three instrumented aircraft platforms and a range of ground-based equipment from radars to balloon-borne instruments at three observation locations -- in order to gather data on different types of storms with different boundary layer compositions and convective environments, and to improve the odds for suitable storms for the study.
Aircraft
NSF/NCAR Gulfstream-V Research Aircraft (GV) | High-Altitude Aircraft
The NSF/NCAR Gulfstream-V (GV) is the nation's most advanced aircraft for environmental research. The GV is owned by the National Science Foundation and operated by the National Center for Atmospheric Research (NCAR).
The GV will be based in Salina, Kansas and is the primary platform to study the chemical trail left by high-altitude storms. The GV will be carrying a suite of instruments that will measure a variety of gases and chemical compounds; incoming and outgoing energy from the Earth; and characteristics of dust and other particles in the clouds. Capable of flying at altitudes as high as 51,000 feet, the GV can collect data at the tops of storms and lower edge of the stratosphere, altitudes out of reach of most research aircraft. Read more about the DC3 GV Operations.
NASA DC-8 | Low-Altitude Aircraft
NASA operates a highly modified McDonnell Douglas DC-8 jetliner as a flying science laboratory. The platform aircraft, based at NASA's Dryden Aircraft Operations Facility, Palmdale, California, collects data for experiments in support of scientific projects serving the world's scientific community. Included in this community are NASA, federal, state, academic and foreign investigators. Read more about the NASA DC-8.
The NASA DC-8 aircraft, will complement the GV by flying at altitudes just below the convective clouds to make observations of the upward airflow into the storm and provide information to aid in flight planning for the other aircraft research flights.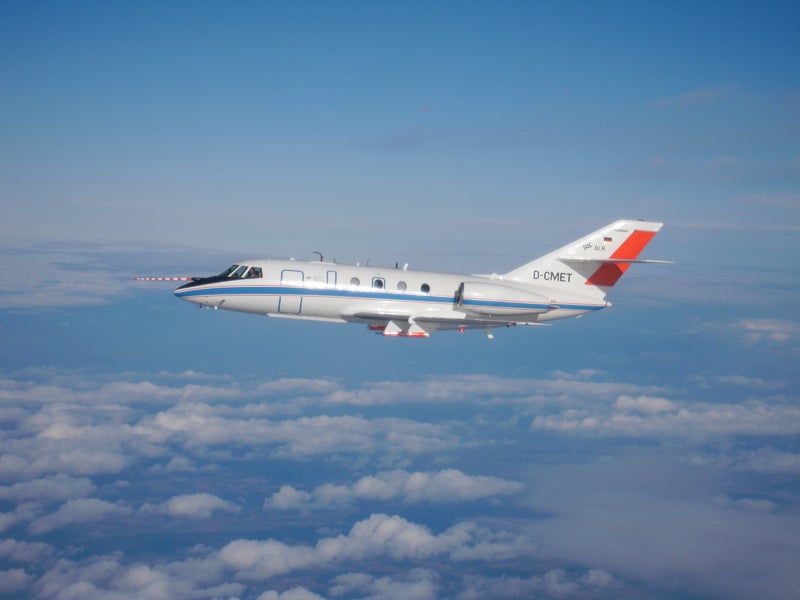 DLR Falcon 20 | High-Altitude Aircraft
The Dassault Falcon 20, operated by DLR - the German Aerospace Center - is a very reliable and still modern aircraft. Its mechanical and aerodynamical robustness makes it an ideal research aircraft even under extreme situations like thunderstorm research or measurements in the contrail of other aircraft. Read more about the DLR Falcon-20.
DC3 will benefit from the Falcon 20's involvement because it is able to fly closer to the storm's core than the other aircraft. The Falcon 20 will fly around the same altitudes in the storm anvil as the GV collecting data largely on the chemical output and cloud dynamics.
Ground-based Facilites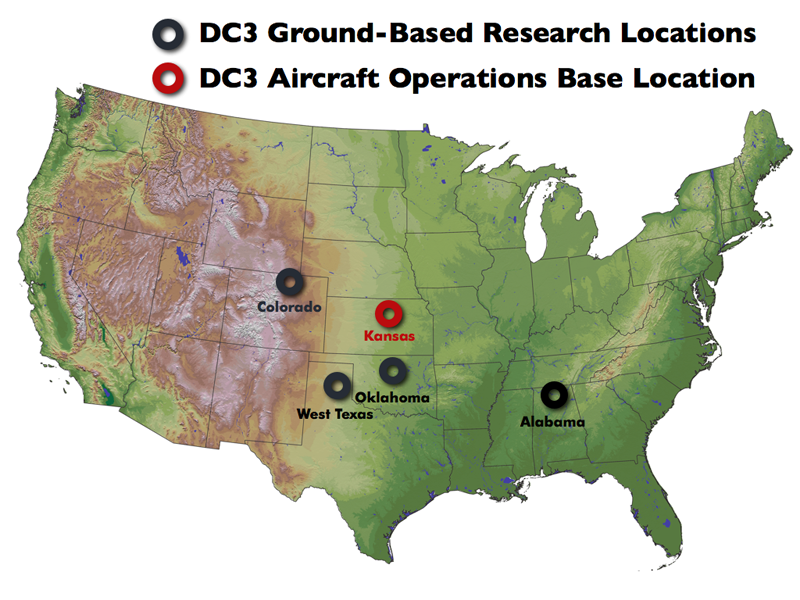 Research flight plans and operations rely heavily on daily forecasting and analysis of the weather. Ground-based radar networks in northeastern Colorado, central Oklahoma, and northern Alabama will be used to observe and display the physical characteristics and movements of a storm, and provide input on where and when the flights should be conducted. Observations from radiosondes, precipitation collection and its chemical analysis will also be used to guide daily flight operations.
Northeast Colorado
CSU-CHILL Radar
The CHILL radar (named so because it was first located in CHicago, ILL) is an 11-cm wavelength, transportable, multiple polarization research radar system and is operated by CSU's Atmospheric Science and Electrical Engineering department. Its antenna is housed within an inflatable radome, for protection against wind loading and corrosion due to challenging Colorado weather. The radome is constructed from low-loss microwave-transparent materials for reliable and accurate data collection.
CSU-Pawnee Radar Facility
The CSU-Pawnee Doppler radar is a single-polarization radar system, and is located 48 km NNW of the CSU-CHILL radar. The radar system is used in a dual-doppler configuration along with CSU-CHILL, and can perform synchronized scans.
Central Oklahoma & West Texas
SMART-R | Shared Mobile Atmospheric Research & Teaching - Radar
The SMART-R C-band was built by a coalition of weather research institutions, including the National Severe Storms Laboratory (NSSL). Collaborators use the SMART-Rs to study convective and mesoscale atmospheric processes to better understand tornadic thunderstorms, squall lines, land-falling hurricanes, and the role of surface boundaries in the initiation of storms.
The SMART-R's provide enhanced observing opportunities for phenomena that occur on short time and space scales and require flexible deployment. The extended operational domain makes it more likely a particular type of weather event can be sampled continuously and rapidly in the lowest altitudes of a storm system.
KOUN polarimetric radar | KOUN - University of Oklahoma Westheimer Airport Call Name
Polarimetric radars, also called dual-polarization radars, transmit radio wave pulses that have both horizontal and vertical orientations. The additional information from vertical pulses will greatly improve many different types of forecasts and warnings for hazardous weather. NSSL's KOUN research radar also has the ability to transmit the horizontal and vertical pulses at the same time, using a "simultaneous transmission scheme," reducing the time it takes to scan an area.
Learn more about how polarimetric doppler radars work.
OKLMA | Oklahoma Lightning Mapping Array
The Oklahoma Lightning Mapping Array (OKLMA) provides three-dimensional mapping of lightning channel segments over west central Oklahoma and two-dimensional mapping of all lightning over most of Oklahoma. Up to thousands of points can be mapped for an individual lightning flash, to reveal its location and the development of its structure.
Northern Alabama
ARMOR | Advanced Radar for Meteorological and Operational Research polarimetric radar
ARMOR is a scanning dual-polarimetric Doppler radar operating at C-band (5625 MHz) with a beam width of 1o. It was originally deployed in Huntsville by the National Weather Service as a local warning radar in 1977 (WSR-74C), refurbished and upgraded to Doppler in 1991. The radar was donated to the UAH Dept. of Atmospheric Science in 2002 and upgraded to dual-polarimetry using the SIGMET Antenna Mounted Receiver in Fall 2004.
MAX | Mobile Alabama X-band radar
The main goal behind Mobile Alabama X-band radar (MAX) is to investigate tornado and severe/hazardous weather phenomena that are especially problematic in the southeast United States. MAX is part of a much larger project named the UAH Tornado and Hurricane Observations and Research (THOR) activity. THOR involves close collaboration between UAH and the NASA Short-term Prediction Research and Transition (SPoRT) Center, and several entities of the National Weather Center in Norman, OK.
NAMLA | Northern Alabama Lightning Mapping Array
The North Alabama Lightning Mapping Array (NALMA) was first activated in 2001 and officially transitioned to the Huntsville, Alabama National Weather Service Office in early 2003. The NALMA is a three-dimensional very high frequency (VHF) detection network of 11 VHF receivers deployed across northern Alabama with a base station and receiver located at the National Space Science and Technology Center.
The NALMA system locates the sources of impulsive VHF radio signals from lightning by accurately measuring the time that the signals arrive at the different receiving stations. Each station records the magnitude and time of the peak lightning radiation signal in successive 80 microsecond intervals within a local unused television channel (channel 5, 76-82 MHz).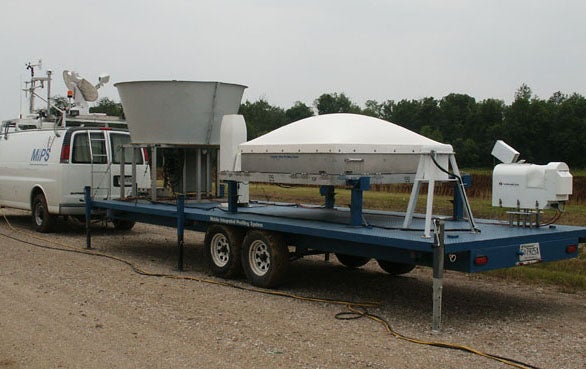 MIPS | Mobile Integrated Profiling System
The Mobile Integrated Profiling System (MIPS) is equipped with two racks mounted to the roof of the MIPS Control Van. The front rack has several different types of weather instruments attached to it, along with a GPS unit and TV Antenna. The rack Weather Station consist of a barometric pressure sensor, Epply pyronometer, R.M. Young wind monitor, temperature/humidity sensor, and two rain gages. On the rear rack there are 6 flood lights attached to the back, and sides, along with a satellite dish for mobile Internet connections.