DEEPWAVE is an atmospheric science research project studying the dynamics of gravity waves from the surface of the Earth to the upper reaches of the atmosphere. DEEPWAVE is funded by the National Science Foundation (NSF), Office of Naval Research, and Naval Research Laboratory (NRL), and operated by the National Center for Atmospheric Research (NCAR), in collaboration with the German Aerospace Center DLR, NIWA, UK Met Office, NZ MetService, NRL, and Australian Antarctic Division. The project is led by Principal Investigators from several US universities and research centers as well as international colleagues from New Zealand, Germany, Australia, and the UK. DEEPWAVE aircraft operations will be based in Christchurch, with six ground-sites on the South Island and one in Wellington from June-July 2014.
All images must be credited to UCAR and may be reproduced in news stories about NCAR & UCAR activities. High-resolution video is available; please send a request to Alison Rockwell.
>> Click on image to download high-resolution copy.
NSF/NCAR HIAPER Research Aircraft

The NSF/NCAR High-performance Instrumented Airborne Platform for Environmental Research (HIAPER) aircraft is a cutting-edge observational platform that will meet the scientific needs of researchers who study many different areas: Chemistry and Climate, Chemical Cycles, Studies of the Upper Troposphere/Lower Stratosphere, Air Quality, and Mesoscale Weather. (© Photo by NSF) News media terms of use*

 

German Aerospace Center DLR Falcon-20

The Dassault Falcon 20E (registration D-CMET) has been extensively modified for use in research by the German Aerospace Center (Deutsches Zentrum für Luft- und Raumfahrt; DLR). The DLR flight facility in Oberpfaffenhofen primarily uses it for atmospheric research. International research teams measure trace gases and aerosols directly from on board the aircraft, and they collect air samples for subsequent laboratory analysis. This twin-engine jet is based on a business aircraft produced by French company Dassault. It can fly at altitudes of up to 12 800 metres. (© Photo by DLR)

DEEPWAVE Ground Sites

A comprehensive suite of ground-based instrumentation will be located at six sites on the South Island, and one on the North Island. Ground sites are supported by NCAR, NIWA, DLR, and the NZ Met Service. Systems include an Integrated Sounding System (ISS) measuring near-surface winds, moisture and temperature gradients; launched weather balloons measuring temperature, pressure, humidity, wind speed and wind direction; and radars and lidars measuring near surface winds. (© Image by Alison Rockwell NCAR/EOL) News media terms of use*

 

NCAR Integrated Sounding System (ISS):

Located at the Hokitika ground site, the Integrated Sounding Systems (ISS) is a self contained meteorological observing system at the Earth Observing Laboratory of the National Center for Atmospheric Research. The ISS combines surface, sounding, and remote sensing instrumentation to provide a comprehensive description of lower atmospheric thermodynamics and winds. (© Photo by Bill Brown NCAR/EOL) News media terms of use*

DEEPWAVE Logo
High-resolution PNG

 

 
 External Shots of the NSF/NCAR HIAPER research aircraft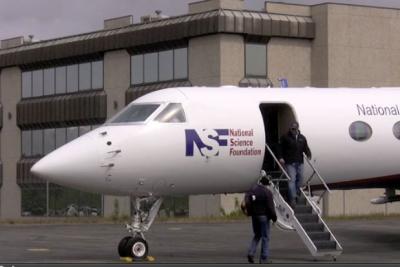 The NSF/NCAR HIAPER research aircraft leaves NCAR's Research Aviation Facility in Boulder, Colorado; takes off against Denver skyline. Landing in Anchorage; tow to hangar. Research prepares dry ice for use chilling onboard instruments. Technicians check instrument pods on wings. Technician explains Data Sampling Module, one of seven minicomputers used to send signals from wing-mounted sensors to monitors on board. HIAPER positioned for takeoff and taxiing on Anchorage runway, mountains in background. (©UCAR. QuickTime, 4:29) News media terms of use*
*Media & nonprofit use of images: Except where otherwise indicated, media and nonprofit use permitted with credit as indicated above and compliance with UCAR's terms of use. Find more images in the UCAR Digital Image Library.
The University Corporation for Atmospheric Research manages the National Center for Atmospheric Research under sponsorship by the National Science Foundation. Any opinions, findings and conclusions, or recommendations expressed in this publication are those of the author(s) and do not necessarily reflect the views of the National Science Foundation.