VOCALS Education & Outreach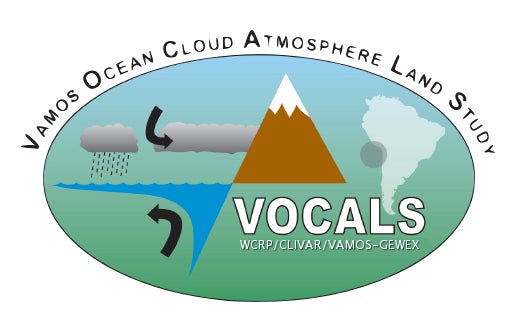 The VAMOS Ocean-Cloud-Atmosphere-Land Study (VOCALS) took place in October - November 2008 off of the western coast of Chile, in South America. VOCALS was an international Climate, Variability and Predictability (CLIVAR) program, the major goal of which is to develop and promote scientific activities leading to improved understanding of the Southeast Pacific coupled ocean-atmosphere-land system on diurnal to inter-annual timescales.
Project categories addressed by VOCALS:
Objectives
The principal program objectives were:
To improve understanding and regional/global model representation of aerosol indirect effects over the Southeast Pacific
To eliminate systematic errors in the region of coupled atmospheric-ocean general circulation models, and improved model simulations and predictions of the coupled climate in the Southeast Pacific and global impacts of the system variability
VOCALS was organized into two tightly coordinated components:
Regional Experiment (VOCALS-REx), is an international field experiment designed to better understand physical and chemical processes central to the climate system of the Southeast Pacific (SEP) region. The climate of the SEP region is a tightly coupled system involving poorly understood interactions between the ocean, the atmosphere, and the land.
To achieve its goals, VOCALS-REx field campaign plans to:
improved model simulations
provide detailed and targeted observations
designed to complement a suite of enhanced long-term observations.
lead to improvement for climate and regional forecasting agencies.
2) Modeling Program (VOCALS-Mod). Extended observations (e.g. Imporved Meteorology buoy, satellites, Eastern Pacific Investigation of Climate/Pan American Climate Studies cruises) will provide important additional contextual datasets that help to link the field and the modeling components. The coordination through VOCALS of observational and modeling efforts will accelerate the rate at which field data can be used to improve simulations and predictions of the tropical climate variability.
VOCALS was a CLIVAR program sponsored by NSF and NOAA with contributions from the Office of Naval Research and Department of Energy.