IASCLiP
Intra-Americas Study of Climate Processes
PROJECT DATES
01/01/2009 - 12/31/2014
Project Location
The Americas
PROJECT DESCRIPTION

A Prospectus (March 2008) for the Intra-Americas Study of Climate Processes program.
To achieve its goals, IASCLiP:
improved model simulations
provide detailed and targeted observations
designed to complement a suite of enhanced long-term observations
lead to improvement for climate and regional forecasting agencies.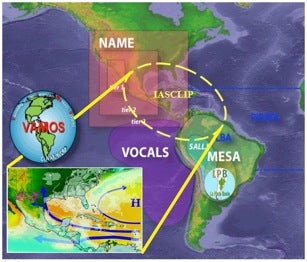 IASCLiP is sponsored by:
Endorsed by:
All photos copyright University Corporation for Atmospheric Research unless otherwise noted.