T-PARC
THORPEX Pacific Asian Regional Campaign (T-PARC)
PROJECT DATES
08/01/2008 - 10/03/2008
Project Location
Hawaii, Guam and Japan
PROJECT DESCRIPTION
The THORPEX (THe Observing Research and Predictability EXperiment) Pacific Asian Regional Campaign (T-PARC) is a multi-national field campaign that addresses the shorter-range dynamics and forecast skill associated with high-impact weather events of one region (Eastern Asian and the western North Pacific) and their downstream impacts on the medium-range dynamics and forecast skill of another region (in particular, the eastern North Pacific and North America).
Although many significant weather events occur over eastern Asia and the western North Pacific, the focus of T-PARC is on various aspects of typhoon activity, which includes formation, intensification, structure change, motion, and extratropical transition. Because of the significant impact of typhoon activity on the region of eastern Asia and the western North Pacific, T-PARC is comprised of several affiliated programs. These programs and their national sponsor include:
Tropical Cyclone Structure-2008 (TCS-08) [United States];
Typhoon Hunter-2008 (TH-08) [Japan];
Predictability and Observation Experiment (PROBEX) [South Korea];
Tibetan Plateau Experiment [China];
The South China Sea Experiment [China];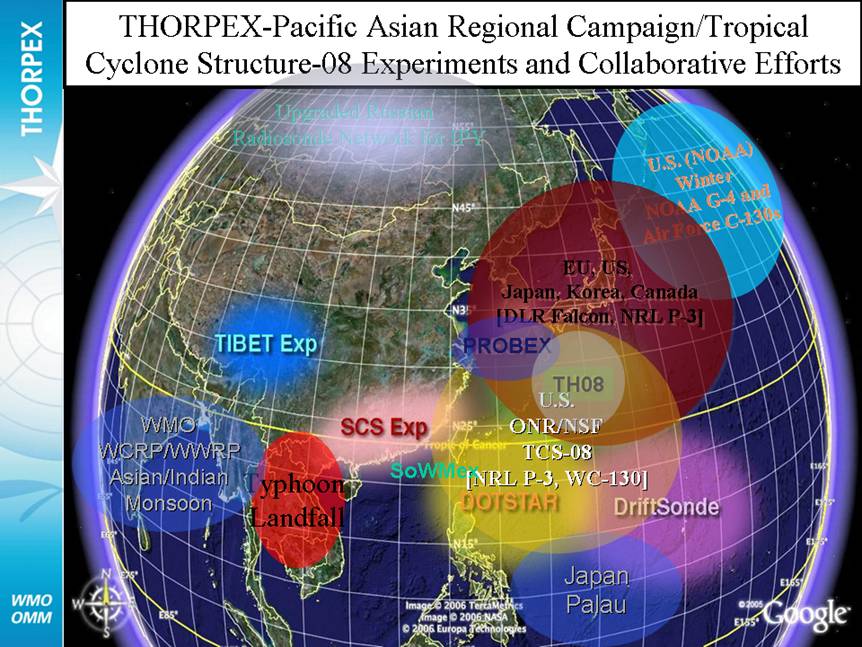 Scientific Objectives
In general, the science objectives of T-PARC are associated with increasing predictability of high-impact weather events (i.e., tropical cyclone formation, intensification, motion, and extratropical transition) and the forcing of one region on the forecasts of a downstream region. As such, the specific objectives are divided into three categories.
T-PARC 2008 Field Study
The field phase of T-PARC and collaborative programs was 1 August to 5 October 2008 over the western North Pacific. This period was chosen to coincide with the climatological maximum of tropical cyclone activity over the western North Pacific.
Observational facilities for T-PARC involve the NRL P-3 aircraft with the NCAR/EOL ELDORA dual-Doppler radar system, GPS dropwindsondes and the Twin Otter Doppler Wind Lidar on-board.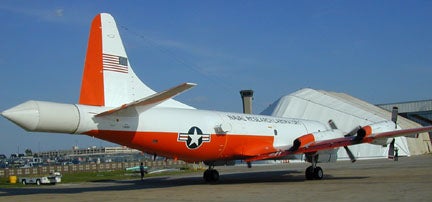 Other aircraft inclue the USAF WC-130J aircraft with GPS dropwindsondes and Stepped Frequency Microwave Radiometer (SMFR),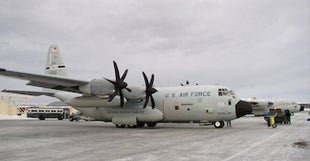 the DLR Falcon aircraft with a Doppler wind lidar and water vapor differential absorption lidar (DIAL) as well as GPS dropwindsonde and the DOTSTAR project ASTRA jet with the Airborne Vertical Atmospheric Profiling System (AVAPS) and GPS dropwindsondes.
Non-aircraft instrumentation includes the NCAR driftsonde which is a zero-pressure high-altitude balloon system that includes a gondola that carries approximately 40 miniature dropwindsondes (MIST). Also, special radiosonde observations were obtained at several sites in Japan through PROBEX and TH-08. The Japan Meteorological Agency also deployed four ships in the East China Sea to conduct radiosonde observations.
                                      All photos copyright University Corporation for Atmospheric Research unless otherwise noted.
CONTACT INFORMATION
Principal Investigators:
Project Manager:
Data Manager: