Studying the Development of Tropical Cyclones & Hurricanes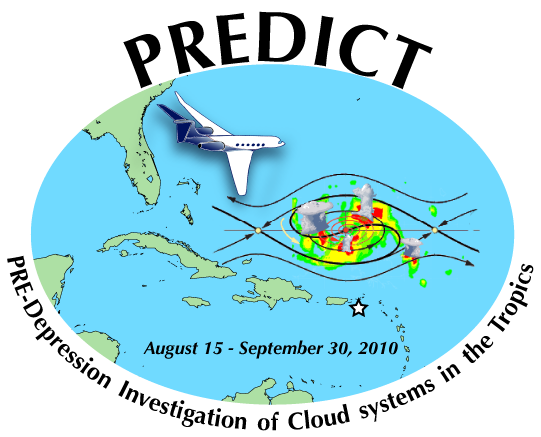 Prediction and understanding of tropical cyclogenesis remains one of the most challenging aspects of atmospheric science. A multitude of tropical disturbances emerge from the West African coast every year near the Cape Verde islands, but only a few of these develop into tropical depressions, storms, or hurricanes.
The PRE-Depression Investigation of Cloud-systems in the Tropics (PREDICT) field experiment will deploy the NSF/NCAR Gulfstream V aircraft in the Atlantic basin in the heart of hurricane season, 15 August-30 September, 2010 to explore multi-scale interactions in tropical wave-like disturbances that promote or hinder the development of a tropical depression vortex.
Tri-Agency Research
Tri-Agency Collaboration
PREDICT is one project in a tri-agency collaborative study of the formation of tropical hurricanes. The National Center for Atmospheric Research (NCAR), National Aeronautics and Space Administration (NASA) and National Oceanic and Atmospheric Administration (NOAA) will collaborate and coordinate multi-aircraft deployments over the  tropical Atlantic Ocean. These three projects are being deployed simultaneously, each having their own specific hypotheses and agenda, however each are complimenting the others.
Tropical Research Base Location :: St. Croix, US Virgin Islands
While this project is deployed, the needed research team and aircraft will be based in St. Croix, Virgin Islands. This particular location was chosen because it offers the best range for the Gulfstream V to cover the area of interest to the scientists. Other considerations were that it has an adequate airport and support facilities. The Research Aviation Facility team has worked out of St. Croix in the past on other field projects so the familiarity with the location will make the project run a bit smoother as well.
VIDEO :: PREDICT Science