HIPPO IV: Research Flight 01 - Colorado to Alaska
HIPPO IV: Research Flight 01 - Colorado to Alaska
June 14, 2011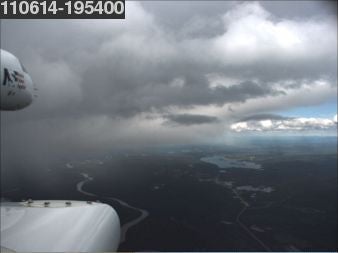 The HIPPO IV team - including scientists and project coordinators - took off from Rocky Mountain Metropolitan Airport, in Broomfield, Colorado today at 10:00am, heading to Anchorage Alaska. The estimated flight time was 6.5 hours.
During the flight, two-missed approaches were performed, allowing the NSF/NCAR GV to approach an airport runway while getting very close to the ground in a safe and controlled manner, in order to collect data at low levels. During these missed approaches, the aircraft descends to the runway as if it were going to land, however, about 500' in altitude, the aircraft "aborts" the landing and begins to ascend once again. This allows data to be collected about 500' above the surface of the Earth, adding to the vertical profiling of the atmosphere.
The aircraft was able to reach and sample stratospheric air at three points during the flight. After the initial take off and missed approaches, the aircraft climbed to heights where it was able to reach the next layer of the atmosphere - the stratosphere. The majority of the HIPPO research is conducted in the troposphere.