HIPPO II: Flight 09 - Kona, HI to Anchorage, AK
November 19, 2009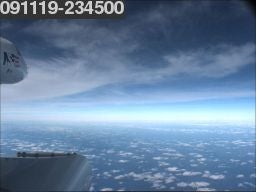 Research Flight 9 flew from Kona, Hawaii to Anchorage, AK and completed the planned 6 dips during the flight, and for the most part, followed the same flight path as RF03, the reverse southbound flight. The flight was approximately 2400 nmi and almost 8 hours.
All of the images from the forward looking camera during this flight can be found in the HIPPO II Field Catalog.
The day before each flight, the HIPPO Team gets together on a teleconference to discuss the status of the status of the NSF/NCAR GV, operational topics as well as to look at the weather forecast of the flight plan for the next day. You can see the weather forecast for the flight from Kona to Anchorage, as well as the forecast for the following days.