HIPPO II: Flight 02 - Northern Polar Regions
November 2, 2009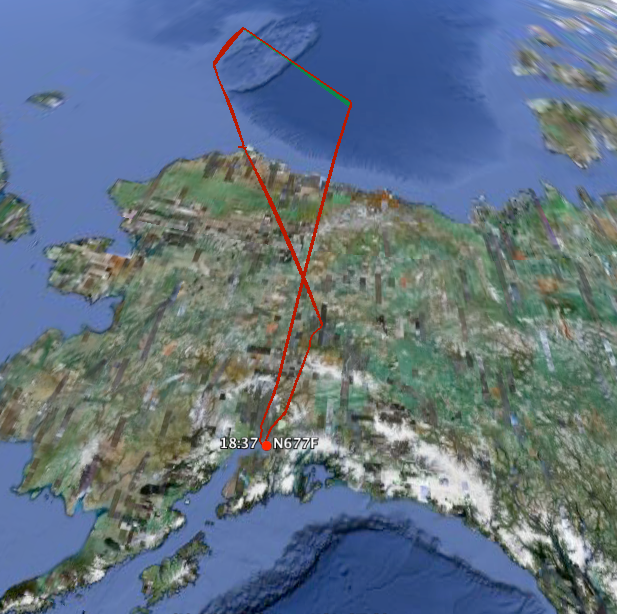 The NSF/NCAR GV flew from Anchorage, AK
towards the North Pole
and back to Anchorage on Research Flight #02.
There were many objectives during the flight, but one important one was to sample the atmosphere as far north as they could during daylight. Steve Wofsy, HIPPO Principal Investigator explains why this is important for the HIPPO project:
This is operational: We wish to fly low, and not in clouds, both for safety reasons and because some instruments don't like to ingest liquid or frozen water. In the dark, you cannot see if there are clouds near the surface, and in the cold arctic region there very often are clouds near the surface.
In fact, there was plenty of light on our whole trip. At 80N we had a full moon directly ahead of us as we flew towards the pole, and the sun was just below the horizon to the south.
There was also a ton of pollution from Asia--the atmosphere was full of dark material, with high concentrations of CO. It is not pleasant to think that this remote area of the earth is grossly polluted, but that is the truth much of the time
Video: RF02 Forward Looking Camera

HIPPO Phase II: RF02
Flight Planning

HIPPO Phase II: RF 02
Morning Drive to Airport

HIPPO Phase II: RF02
Britt in the Hangar

HIPPO Phase II: RF02
Engine Fire Up

HIPPO Phsae II: RF02
Taxi

HIPPO Phase II: RF02
On Approach
AMAZING pictures by Britt Stephens, HIPPO co-Principal Investigator:

HIPPO Phase II: RF02
Denali

HIPPO Phase II: RF02
Pollution Over Arctic

HIPPO Phase II: RF02
Cloud decks north of Barrow, AK

HIPPO Phase II: RF02
Moon and lead at 80° North

HIPPO Phase II: RF02
Mt. Redoubt and Iliamna