HIPPO II - Christchurch, New Zealand
November 11, 2009
The NSF/NCAR HIAPER Gulfstream V (GV) and the HIPPO project were enthusiastically welcomed to Christchurch, New Zealand by the media and by many related organizations, including the National Institute for Water and Atmospheric Research (NIWA), the University of Canterbury, NSF local representatives and the International Antarctic Center.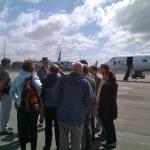 Almost half of the attendees were students from the university's Chemistry and Physics Departments from the University of Canterbury. Additional help from the NIWA Media Advisor was greatly appreciated and brought in many people associated with NIWA, as well as local news and radio stations, and newspapers. The event flier was also sent out to about a dozen local secondary schools, however due to the timing of school vacations, many groups were unable to attend. Visitors from the International Antarctic Center rounded out the guest list.
The media was particularly excited to cover this event due to the fact that the during the inbound flight to Christchurch, HIAPER did a fly-over of NIWA's Lauder observatory to compare baloon versus airborne measurements. New Zealand's Scoop posted a media statement by NIWA called Is it a bird? a plane? No, it's a low flying hippo , that did a superb job explaining the science behind HIPPO and how it is supporting related research by NIWA. Other media coverage included New Zealand's Channel 3 (TV3) that put together a fantastic clip called Scientists in Christchurch to sample our atmosphere and aired on their nightly news. TVNZ played a wonderful clip titled US research plane measures gas over Otago. Additionally, the NZ Herald posted an article US jet tests gas levels in sweep of NZ atmosphere that clearly outlines the atmospheric science research that the GV is conducting.
The NSF/NCAR GV was open to the public on Wednesday, November 11, as well as the before mentioned institutions, and we had about 40 visitors, including 15 university students. The NSF/NCAR GV crew, plus a few EOL staff, who flew to New Zealand to assist with ground operations, assisted with the event. The visitors were able to talk one-on-one with the scientists and project coordinators, as well as get on board the NSF/NCAR GV and see the sampling instruments first-hand and learn more about the important science that EOL is supporting.
The HIPPO Outreach Event in Christchurch had a great turnout and received positive feedback from all who were involved. Providing this event for the local community proved to be a wonderful experiential learning opportunity for students and other interested parties to learn more about atmospheric science and aviation research. Thank you to all who participated in this fantastic event!