November 3, 2009: 2pm-4pm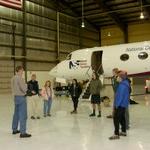 A group of eight students and a professor from Alaska Pacific University's Environmental Studies program, a news crew from the local NBC station and an independent writer joined the HIPPO outreach event in Anchorage, Alaska. The smaller, more intimate setting allowed for everyone to fully engage in this wonderful learning opportunity and talk one-on-one with the research scientists, project coordinators and the flight crew. NCAR/EOL invited students from many school groups and organizations, however with the delays in HIPPO project and date change of the outreach event made it difficult for all of those who wanted to attend. The attendees were given the opportunity to climb onboard the NSF/NCAR GV and to ask questions about aviation research, instruments and the science EOL is supporting.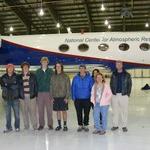 The local Anchorage NBC news station, Channel two KTTU, covered the event and posted a news story, Plane Sampling Atmosphere Lands in Anchorage After Arctic Flight, which reports on the research that HIPPO is conducting. They also had a brief piece on the HIPPO project on their Tuesday, November 3, 2009 6:00 Evening News broadcast.
Visitors were encouraged to follow the HIPPO project by going to the website as well as following the research project on Facebook.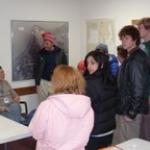 The HIPPO Outreach Event in Anchorage had a fewer than expected visitors, however the target audience of the HIPPO project, university level students, was definitely met. We will continue to seek more opportunities to engage university level students in the EOL Field Project Services missions. Providing this event for the local community proved to be a wonderful experiential learning opportunity for students to learn more about atmospheric science and aviation research. Thank you to all who participated in this fantastic event!