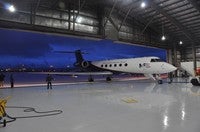 The first stop of the GV will be in Anchorage, Alaska, where the plane can be serviced, resupplied and have any need maintenance performed.
Anchorage is a convenient location for the GV stop and refuel before heading up towards the North Pole. The amount of fuel that can be carried on any given flight dictates how far the aircraft can travel because it needs enough fuel to travel as far north as possible and have enough fuel to return Having a location that the GV can stop at to be serviced and refueled this far north allows for research to occur as far past the Arctic Circle (66.56083° N) as possible. The GV will actually get closer to 85° North, with enough fuel to travel safely back to Anchorage.
From Anchorage Alaska, the GV flies roughly an out-and-back flight towards the North Pole, then comes back to Anchorages for refueling and maintenance. The GV will then make its way south to Hilo, Hawaii on a 8 hour flight, all the while taking atmospheric samples from altitudes of 1000' - 45,000' above sea level.
Anchorage , AK Weather
Tonight as of Feb. 10 4:30 AM AKST
Fri, 10 Feb 2017 04:30:00 AKST
Tonight - Snow likely. Snow accumulation 1 to 2 inches. Lows 5 below to 10 below. Variable wind to 10 mph.