T-REX
Terrain-induced Rotor Experiment
PROJECT DATES
03/01/2006 - 04/30/2006
Project Location
Owens Valley, California
PROJECT DESCRIPTION

The Terrain-induced Rotor Experiment (T-REX) is the second phase of a coordinated effort to explore the structure and evolution of atmospheric rotors (intense low-level horizontal vorticies that form along an axis parallel to, and downstream of, a mountain ridge crest) as well as associated phenomena in complex terrain. The initial, exploratory, phase of this effort, the Sierra Rotors Project, completed its Special Observation Period (SOP) in early spring 2004 in Owens Valley, California. Experience gained and data collected in the Phase I SOP have been instrumental in formulating both the scientific objectives and experimental design of T-REX.
Scientific Objectives
The main scientific objective of T-REX is a comprehensive study of the coupled mountain-wave, rotor, and boundary-layer system. Some complimentary scientific issues include stratospheric-tropospheric exchange and structure and evolution of the complex terrain boundary layer in the absence of rotors. The comprehensive T-REX data sets will also represent a unique test bed for the validation of numerical models, and are expected to be instrumental in achieving further significant improvements in mesoscale and microscale modeling and in the prediction of aviation hazards, downslope windstorms, and aerosol transport and dispersion.
Observational Thrusts
The observational thrusts are two-fold:
comprehensive ground-based and airborne, in situ and remote sensing measurements during strongly perturbed conditions favoring rotor formation, and
comprehensive observations of complex terrain broundary layer structure and evolution from undisturbed to strongly perturbed conditions.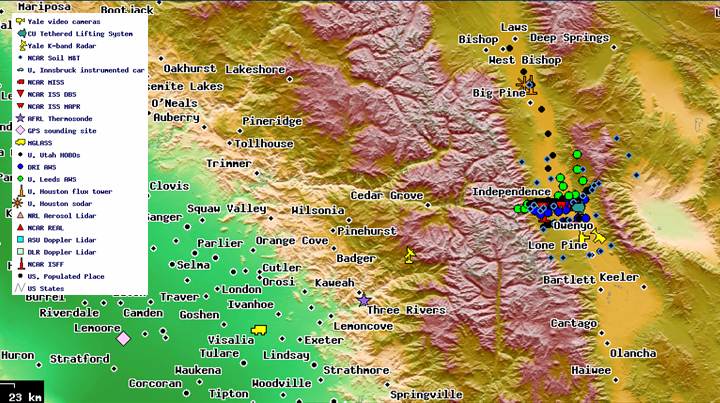 Field Study in 2006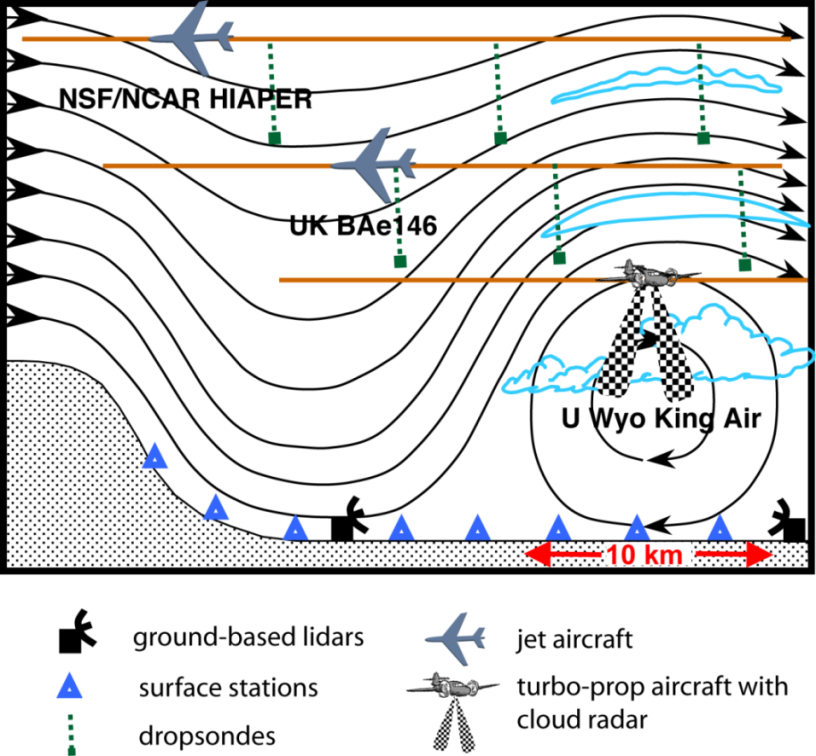 Schematic of T-REX composite observing system in relation to rotor phenomenon. Click image for full resolution.
T-REX field activities will take place in Owens Valley in March and April 2006. Owens Valley lies to the east of the southern Sierra Nevada, which is the tallest, steepest, quasi two-dimensional topographic barrier in the contiguous United States. Mountain waves and attendant rotors are know to reach particularly striking amplitude and strength there. Climatological studies, including results from Phase I, show that the months of March and April have the highest frequency of rotor events. Ground-based and airborne, in-situ and remote sensing measurements will be conducted both upwind and within Owens Valley during the two month period.