Perdigão: Capturing the complexities of mountain winds
Notre Dame News | 1 June 2017

A team of close to 50 scientists, students and technical staff is bringing an unprecedented assembly of equipment to Vale do Cobrão, a valley in eastern Portugal. Researchers at the valley are collecting data on multiple aspects of wind flow patterns shaped by meteorological forcing on intricate terrain through carefully planned field observations.
» Read more
Atmospheric scientists conduct field experiment to study wind flow over complex mountain terrain
NSF | 1 June 2017

Over the past month, researchers have descended on Portugal's Vale Do Cobrão near the Spanish border to study the valley's wind flow patterns.
The international project, known as Perdigão after the closest town, is funded by the National Science Foundation (NSF) and involves more than 50 atmospheric scientists. They're working to better understand how wind moves over variable terrain.
» Read more
Monitoring Wind in Portugal's Mountains Down to Microscales
Eos.org | 31 May 2017

Researchers are now gathered for the Perdigão field campaign, an effort to study wind flow physics at scales down to tens of meters. The effort should help engineers harness wind energy in Europe.
» Read more
Cornell researchers map wind to better harvest energy
Cornell Chronicle | 11 May 2017

Cornell scientists and engineers, working with international teams, are seeing wind in high resolution. They are creating the world's largest, most-detailed wind maps ever in the picturesque hills of Perdigão, Portugal. This research aims to find how wind and turbulence behave in intricate terrain.
Capturing a Detailed Portrait of Wind
AtmosNews | 28 April 2017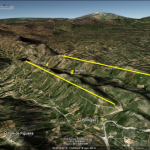 The National Center for Atmospheric Research (NCAR) is partnering with colleagues in Europe and the United States on a field project in Portugal, called Perdigão, that will measure wind at an unprecedented resolution, both in time and space, as it moves through a more topographically diverse study area.
» Read more
World's largest wind-mapping project spins up in Portugal
Nature | 14 February 2017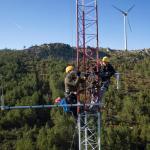 Machines have invaded a windswept rural valley in eastern Portugal. Squat white containers stare at the hillsides, sweeping lasers across the eucalyptus-studded slopes, and towers bristling with scientific instruments soar 100 meters into the air.
» Read more