PRESTO Existing User CILogon
PRESTO has been updated to use ACCESS CI (formerly XSEDE) and CILogon.org for user authentication. For logging in, PRESTO directs users to CILogon.org and ACCESS, and then users are automatically redirected back to PRESTO upon successful login to ACCESS.
Existing ACCESS (XSEDE) User
If you do not have an ACCESS (XSEDE) account, please see PRESTO New User CILogon for instructions on how to create an account.
When you have an ACCESS (XSEDE) account, go to https://presto.eol.ucar.edu, where you will see the PRESTO login page: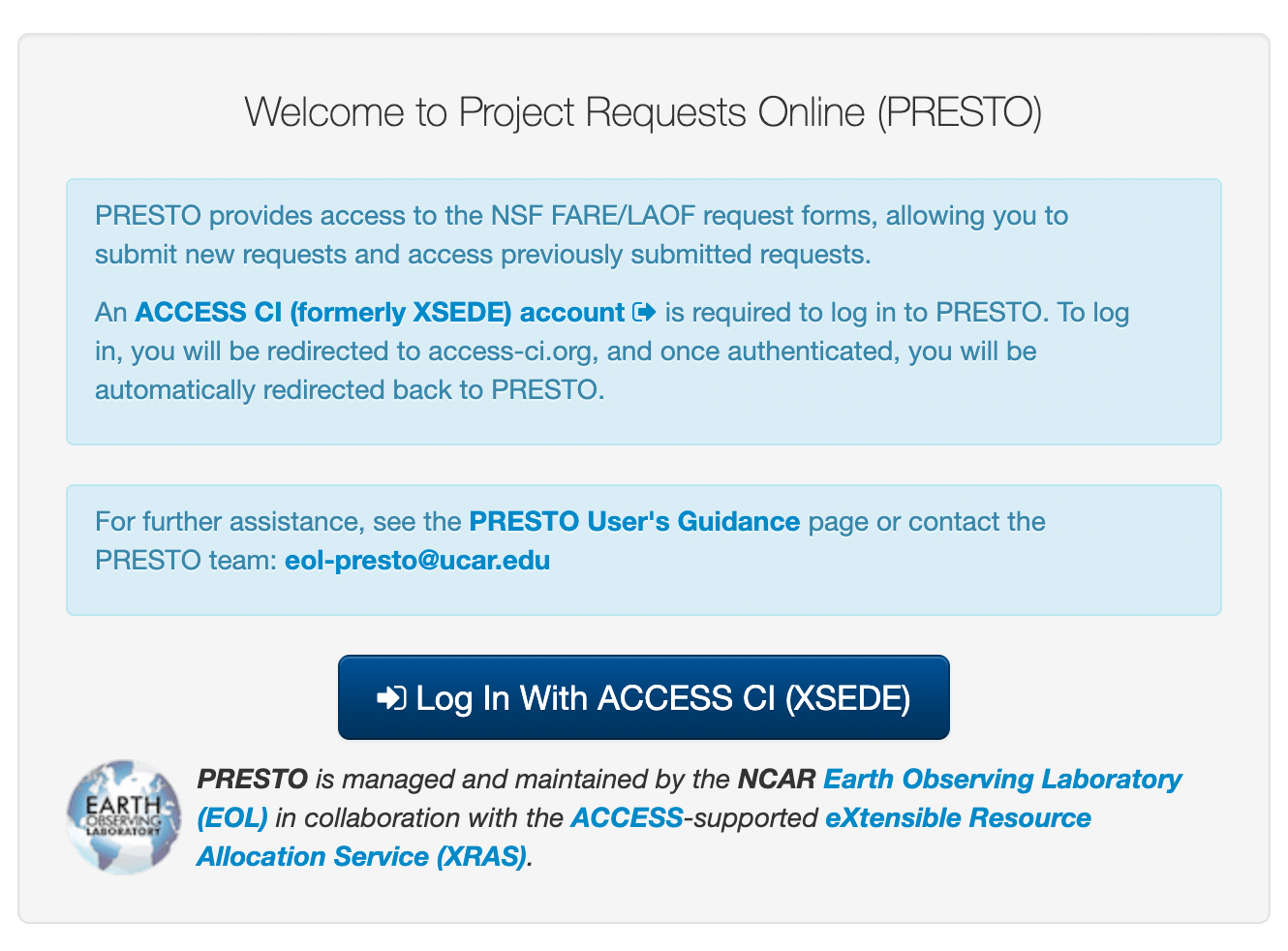 Click Log In With ACCESS CI (XSEDE).
 
You will then be directed to CILogon.org, where you will be asked to select an Identity Provider. If you have an existing XSEDE account, select ACCESS CI (XSEDE).

If you have an account with a third-party identity provider that you would like to use, such as ORCiD, Google, or an educational institution, select that identity provider from the menu.

Click Log On.
 
You will then be directed to the login page of the selected identity provider, such as ACCESS.
 
Enter your ACCESS Username and Password and click Login.

If you receive an error message "Error: User Not Registered with ACCESS", follow the instructions on the error page (https://identity.access-ci.org/user-not-registered) for associating your identity provider with an existing ACCESS account or creating a new ACCESS account.
 
You will then need to approve your login using Duo two-factor authentication (2FA). If this is your first time logging in to ACCESS, you will need to set up Duo. For more information, see:
On your mobile device, Approve your ACCESS login via the Duo app.

You should then see a success message on your computer:

After successfully logging in to ACCESS, you will be automatically redirected to PRESTO.

You are now logged in to PRESTO, where you can submit facility requests and view previous requests.
Contact
Please direct questions/comments about this page to: