Design & Fabrication Services
Instrument Design and Engineering Services
The Design and Fabrication Services facility (DFS) designs, analyzes, manufactures, and integrates a wide variety of instruments. Built on a strong engineering foundation, DFS' work is based upon the extensive application of physics, mathematics, and core engineering principles. In collaboration with scientists and technical staff within and outside the laboratory, DFS designs a comprehensive range of equipment and instruments touching almost every aspect of the current technologies and instrumentation development within EOL.
The DFS engineering team often joins a project in the early development phase to ensure that new instruments are properly designed, analyzed, and tested to make sure they gather the most precise and reliable data needed to address the science objectives. DFS utilizes the latest software tools, including SolidWorks Computer-Aided-Design (CAD) software, and its integrated finite-element-analysis (FEA), Simulation software. The engineering team continues to develop optical, laser, lidar, radar, dropsonde systems, and support equipment for new instruments used in the remote sensing of atmospheric conditions.
Core Engineering Capabilities
Instrument Development
Computer-Aided-Design using SolidWorks
Specification development
Technical drawing development
Mechanical Design and Engineering
Opto-mechanical Design
Design Analysis utilizing Finite-Element-Analysis (FEA)
Design of instruments and sensors for extreme environments including ground-based systems, airborne systems, mobile systems, ship-borne systems, and balloon-borne systems
Fabrication Services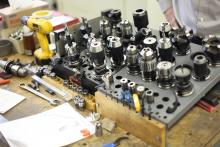 The DFS machine shop makes extensive use of the latest computer-aided-manufacturing (CAM) software to control their computer numerical control (CNC) machining centers. This highly automated end-to-end manufacturing process provides an efficient method for minimizing the manufacturing costs and allows the shop to produce complex shapes and contours when needed. The DFS machine shop is skilled in fabricating components made from aircraft-grade aluminum, titanium, stainless steel, and engineered polymers. The shop has an extensive background in producing parts that range from trailer-mounted radars to tapered aircraft inlets to ultra-precision optical mounts for instruments. Along with their expertise in aerospace welding and sheet metal fabrication, the shop has a broad capability that is needed in the manufacturing of atmospheric instrumentation.
Key Fabrication Services Offered
CNC Machining using 3-axis and 4-axis machining centers
Precision Machining to tight tolerances
Sheet Metal Fabrication
Certified welding per AWS D17.1 (Aerospace Fusion Welding)
Orbital welding
Brazing and Soldering
3D printing using ABS plastic
Instrument repair and assembly