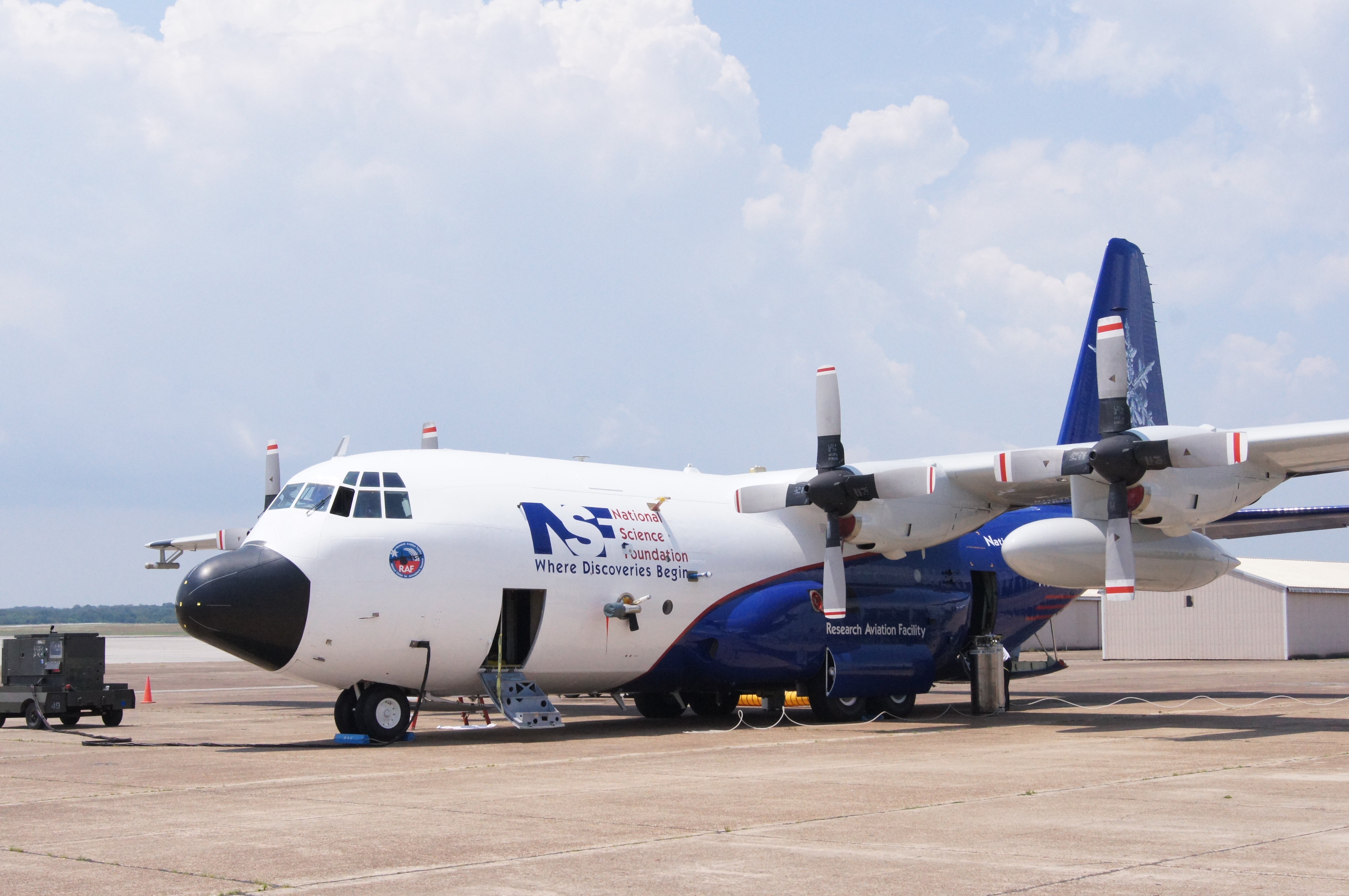 Many atmospheric scientists from universities and National Laboratories across the U.S. are involved with WE-CAN including the Colorado State University, the University of Colorado at Boulder, the University of Montana, the University of Washington, the University of Wyoming, and the National Center for Atmospheric Research (NCAR). 
In addition to the complex project logistics that need to be arranged and the aircraft maintenance and operation, the NSF/NCAR C-130 has a suite of over 25 specialized research instruments on board specifically selected for WE-CAN. Each instrument required its own team to operate, calibrate, and maintain it for the duration of the project.
Below is a list of PI teams responsible for the instruments on board the C-130 during WE-CAN.
AEROSOL and CLOUD PARTICLE INSTRUMENTATION
Two-Dimensional Optical Array Cloud Probe [10 μm] (2DC-10)
NCAR Earth Observing Laboratory
EOL standard instrumentation
Two-Dimensional Optical Array Cloud Probe [25 μm] (2DC-25)
NCAR Earth Observing Laboratory
EOL standard instrumentation
Cloud Condensation Nuclei (CCN) Counter
Colorado State University
Paul DeMott, PI
Sonia Kreidenweis, Co-PI
Ezra Levin
Kevin Barry
Cloud Droplet Probe (CDP)
NCAR Earth Observing Laboratory
EOL standard instrumentation
Continuous Flow Diffusion Chambers (CFDC)
Colorado State University
Paul DeMott, PI
Ezra Levin
Kevin Barry
Kathryn Moore
Counterflow Virtual Impactor (CVI)
University of Colorado - Boulder
Darin Toohey, PI
Cindy Twohy, Co-PI
Stephanie Redfern
Bryan Rainwater
High-Resolution Time of Flight Aerosol Mass Spectrometer (HR-ToF-AMS)
Colorado State University
Delphine Farmer, PI
Sonia Kreidenweis, Co-PI
Lauren Garafalo
Matson Pothier
Ice Spectrometer (IS, with CFDC)
Colorado State University
Paul DeMott, PI
Thomas Hill
Ezra Levin
Kevin Barry
Kathryn Moore
Passive Cavity Aerosol Spectrometer Probe (PCASP)
NCAR Earth Observing Laboratory
EOL standard instrumentation
Particle into Liquid Sampler (PILS2)
Colorado State University
Amy Sullivan, co-PI
Scanning Mobility Particle Sizer (SMPS)
NCAR Atmospheric Chemistry Observations & Modeling
John Ortega (ACOM)
Paul DeMott, PI
Ezra Levin
Kevin Barry
Single Particle Soot Photometer (SP2)
Colorado State University
Paul DeMott , PI
Sonia Kreidenweis, Co-PI
Delphine Farmer, PI
Ezra Levin
Ultraviolet Absorption Hygrometer (UVH)
NCAR Earth Observing Laboratory
EOL standard instrumentation
Ultra-High Sensitivity Aerosol Spectrometer (UHSAS)
NCAR Earth Observing Laboratory
EOL standard instrumentation
Wyoming Cloud Lidar (WCL)
University of Wyoming
Min Deng
TRACE GAS INSTRUMENTATION
Advanced Whole Air Sampler (AWAS)
Colorado State University
Amy Sullivan
I-Ting Ku
Yong Zhou
CCD Actinic Flux Spectroradiometers (CAFS)
NCAR Atmospheric Chemistry Observations & Modeling 
Sam Hall
Kirk Ullmann
Chemical Ionization Mass Spectrometer (CIMS)
University of Washington
Joel Thornton, PI
Brett Palm
Ben Lee
Qiaoyun Peng
CO2 / CH4 Picarro
NCAR Atmospheric Chemistry Observations & Modeling 
Teresa Campos
Andy Weinheimer
NH3
Colorado State University
Emily Fischer, PI
Ilana Pollack
Jakob Lindaas
NO-NO2
NCAR Atmospheric Chemistry Observations & Modeling
Teresa Campos
Andy Weinheimer
Deedee Montzka
Geoff Tyndall
PAN Chemical Ionization Mass Spectrometer (CIMS)
NCAR Atmospheric Chemistry Observations & Modeling
Frank Flocke
Proton Transfer Reaction Time of Flight Mass Spectrometer (PTR-ToF-MS)
University of Montana
Lu Hu, PI
Wade Permer
Catie Wielgasz
Qian Wang
Trace Organic Gas Analyzer (TOGA)
NCAR Atmospheric Chemistry Observations & Modeling/University of California at Irvine
Eric Apel (ACOM)
Becky Hornbrook (ACOM)
Alan Hills (ACOM)
Alex Jarnot (CU)
Nicola Blake (CU)
RADIATION INSTRUMENTATION
HIAPER Airborne Radiation Package (HARP)
NCAR Atmospheric Chemistry Observations & Modeling 
Sam Hall
Photoacoustic Absorption Spectrometer/Cavity Attenuated Phase Shift (PAS/CAPS)
University of Wyoming
Shane Murphy
Rudra Pokhrel