TORERO Site Survey Trip
10-12 October 2011
San José, Costa Rica
Survey Team:
José Meitín, PMO project coordinator 
Steve Thompson, GV pilot
GENERAL INFORMATION:
Geography
Time: Central Standard Time zone, GMT-6, Daylight Savings Time is not observed 
Electricity: Electrical current is 110 volts, 60Hz. U.S. standard.
Language: Spanish (but English is widely spoken).
Weather: Climate Data for San José, Costa Rica
Currency: Colón (~ $1USD = ₡500 CRC), major credit cards, tourist businesses accept US dollars
Telephones: International Dialing Code 506
Entry requirements for U.S. citizens: A valid passport is required for entry to Costa Rica. Foreign nationals please check for individual visa requirements at the Embassy of Costa Rica
---
Places We Visited:
U.S. Embassy Environment, Science and Technology Office (EST) in San José is the regional hub for Central America and the Caribbean science affairs. We met with Diego Acosta, Environmental Analyst who recalled the NSF GV visit during the HIPPO-I campaign in February 2009. He offered any assistance we might need. The EST will be the point of contact with regard to diplomatic clearances. Diego would like to be copied on most correspondence dealing with our science activities in Costa Rica. The EST is very keen on organizing outreach events once the aircraft is in Costa Rica. Diego encouraged us to collaborate with the Centro Nacional de Alta Tecnología (CeNAT - National Center for High Technology) as they would be a powerful host for TORERO.
Centro Nacional de Alta Tecnología (CeNAT) - We were invited by Cornelia Miller (research coordinator) to visit CeNAT where we also met with Eduardo Sibaja (Director General), Allan Campos (coordinator environmental studies), and Gustavo Otarola (Financial Director of their funding agency, FunCeNAT). CeNAT represents a consortium of 4 national universities. They have worked closely with NASA on several missions in Costa Rica. CeNAT was eager to collaborate with NSF and offered to support TORERO in several ways:
1.   Key to our needs is access to a hangar at the airport. CeNAT staff organized a visit to the Vigilancia Aérea (National Air Police) known as "Base Dos" (
pronounced bah'-say dose
, Spanish for "Base #2") which controls a separate area of the airport that includes an operations building, a hangar and a ramp. Base Dos has its own guarded gate entrances.
2.   CeNAT universities have existing contracts with suppliers of cryogenics. CeNAT is willing to coordinate deliveries to the aircraft as needed.
3.   CeNAT would like to organize some outreach events during TORERO. In return, they would invite TORERO investigators to give seminars at CeNAT headquarters during the campaign.
4.   CeNAT could, if needed, act as a paymaster for all financial transactions while in Costa Rica
5.   CeNAT would assist in finding discounted lodging, if needed.
CeNAT was very willing to support any of our logistical needs and act as a local coordination point for TORERO activities.
Vigilancia Aérea (National Aviation Security Force) - Our CeNAT hosts (Cornelia & Gustavo) drove us to Base Dos to meet with Capt Alex Romero (Operations Director) who offered any and all support needed during the deployment. Although the hangar is used for parking government aircraft, the GV could have access if repairs were needed. Primary aircraft parking would be on the ramp, which was fairly congested during our visit but they discussed how space would be made available for us. Tie-down points are not available. Our storage seatainers could be placed nearby within the perimeter and parking was available for rental cars. Security badges were not required, but a project badge and an up-to-date staff list would be needed at the gate for easy access. Capt. Romero suggested we coordinate with AeroServicios for ground handler services as they have the most complete equipment available at the airport. Capt. Romero called AeroServicios operations manager and arranged for us to meet later on. We discussed the feasibility of doing pre-flight equipment warm-up on the ramp or whether we would need to be towed to the taxiway to mitigate the noise from the aircraft auxiliary power unit before engine start. This may involve having to pay for parking time to the airport concessionaire (AERIS) as this area is outside the Base Dos jurisdiction.
Dirección General de Aviación Civil (DGAC - Civil Aviation) - We met with the Director of Air Navigation, Kenneth Jackson (again, arranged by our hosts). We discussed our planned operations. We provided Sr. Jackson a copy of the proposed TORERO flight plans showing the various ATC regions impacted. Sr. Jackson is scheduled to visit CENAMER Regional Traffic Control Center (in Honduras) in the coming days and would meet with his counterpart (and our TORERO point of contact) to coordinate our flight operations. Sr. Jackson also suggested a visit with AERIS, the airport concessionaire, so they would be aware of our activities on Base Dos.
AERIS Costa Rica (Airport Operations Concessionaire) - On Wednesday morning, prior to our return flight to the U.S., we stopped by the main office of AERIS at the terminal. We were able to meet with César Tello, operations manager. He took down all pertinent information regarding TORERO operations. Sr. Tello concurred that there would only be fees for take-offs and landings, but was unsure whether parking fees would be incurred while using the ramp for pre-flight warmup. He suggested those might also be waived at the request of CeNAT to the civil aviation authorities (DGAC).
AeroServicios, S.A. (Airport Ground Handler) -
While at the terminal, we met with Luigi Martínez (operations manager) briefly who confirmed that there weren't any hangars available other than the one at Base Dos. AeroServicios is a full-service ground handler that could provide us with a tow (they have GV towbar), fueling, work stands and other support equipment. They are equipped to service the lavatory. They will also be capable of shuttling personnel between the aircraft and Base Dos if it is necessary to move the aircraft outside of the Base Dos area for pre-flight or maintenance periods. The condition of the ramp outside of Base Dos is questionable and the aircraft may need to be towed each time we transit this area - which AeroServicios is prepared to do. They do not have standard maintenance fluids available other than fuel. This is not the primary FBO that COLT International works with, so alternate arrangements through COLT or a direct contract with AeroServicios will need to be established.
---
Aerial View: "Base Dos" hangar & ramp - Vigilancia Aérea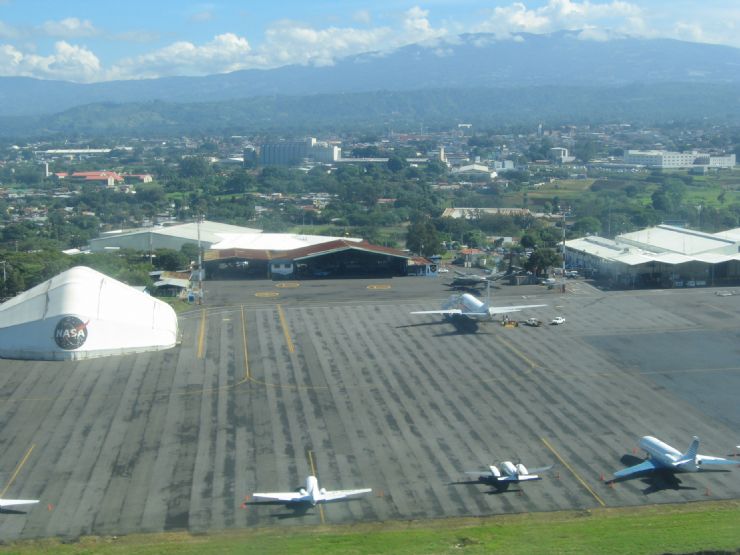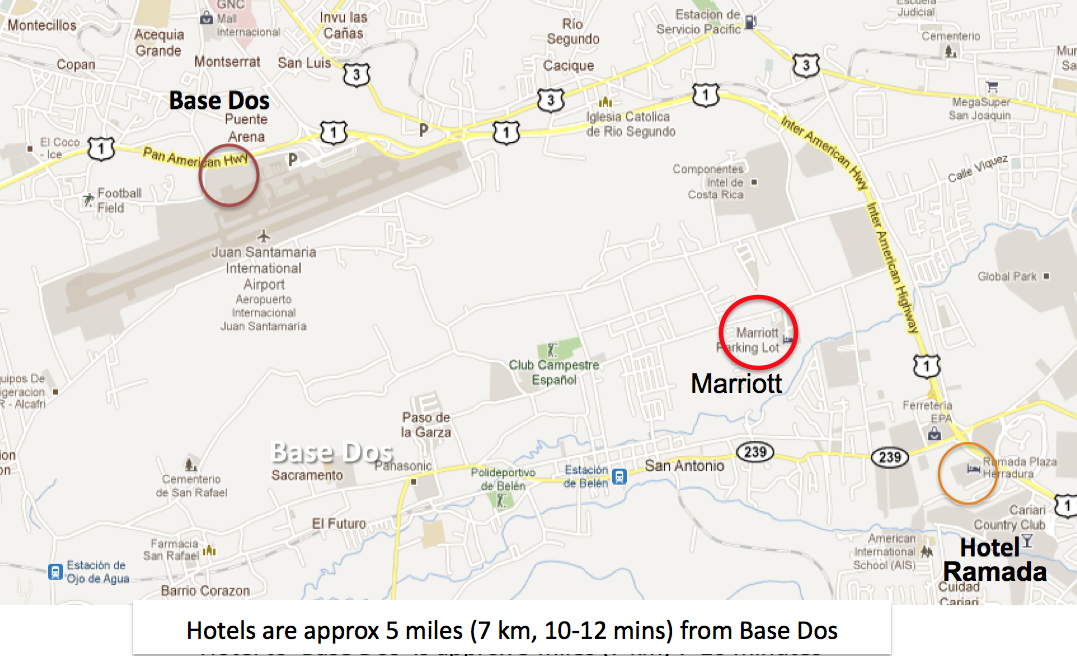 ---
Location: Juan Santamaría International Airport (SJO/MROC) is located 20 km (12 miles) to the northwest of the capital city, downtown San José in the Alajuela neighborhood.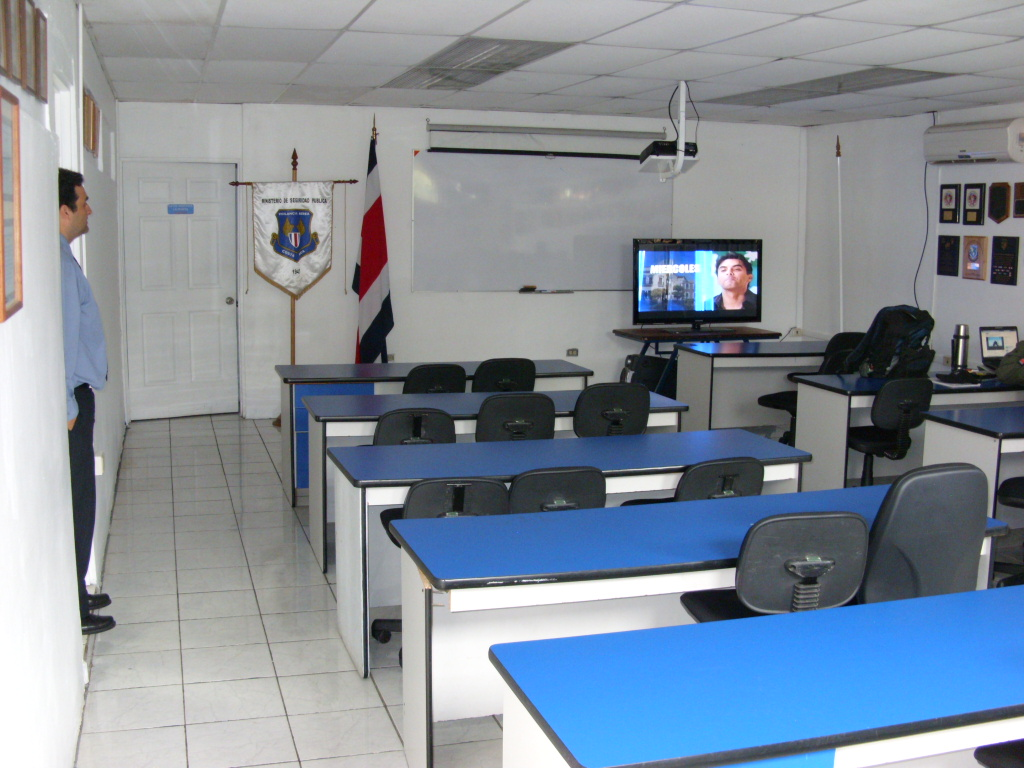 Elevation AMSL: 921m / 3,022ft
Coordinates: 09°59'38"N / 084°12'32"W 
Runway:   07/25   3012m   9882ft
Fixed Base Operator: There are several ground handlers available at the airport. We met with Luigi Martinez of AeroServicios (http://www.aeroservicioscr.com/). They can provide maintenance stands (no lift), fuel, tug and GV compatible towbar, air cart and crew transportation.
Hangar: Only available hangar belongs to the Vigilancia Aérea (National Air Police). We will have access to it, but parking will be on the ramp.
Aircraft Parking: Parking will be on the ramp at the National Police area known as "Base Dos"
Fueling: All fuel is provided by the CR government oil company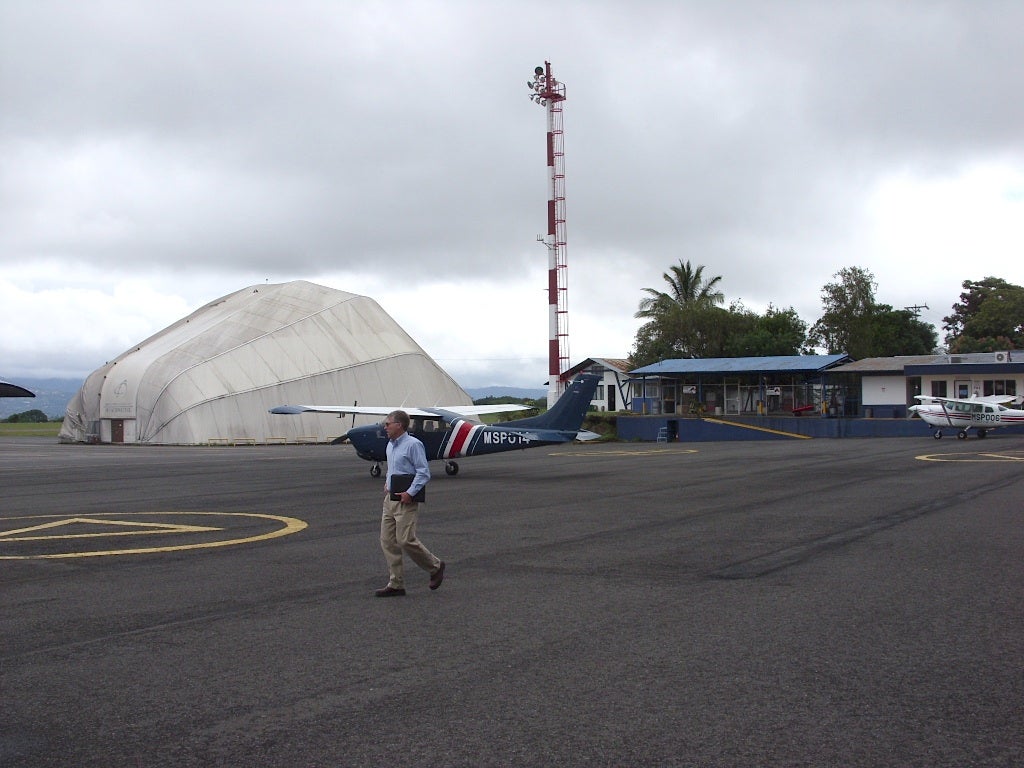 Operations: Access to the ramp is through the National Police guard gate.
Space: TORERO has been offered office/lab space at the Base Dos operations building, wireless internet access is available
Car Parking: There is space available within the Base Dos security area for rental car parking. There is also space available for seatainers.
Security: The Vigilancia Aérea will not require airport security badges, but TORERO staff roster must be current at the gate and project ID badges are suggested
Base Dos
Operations Chief
Capt Alex Romero
(506) 2441-2605
alexromero@msp.go.cr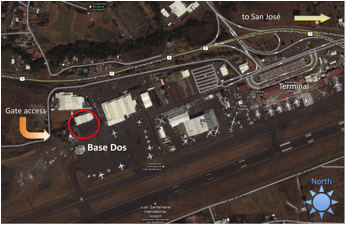 ---
ACCOMMODATIONS:
We visited 2 hotels and stayed at a third hotel during our trip.
Ramada Plaza Herradura: (http://www.ramadaherradura.com)
This property is in the process of bidding out to a new hotel chain and will not be affiliated with Ramada. The final decision is expected by end of the year 2011. Very nice hotel with busy conferencing facilities located along the freeway to the airport. Breakfast will be included with their group rate. There are 3 restaurants on the property. Walking distance (acrss the freeway) to regional mall/food court/megaplex movies. 2-3 swimming pools on site. Modest exercise room on site, plus discount at nearby (200 yds) gym. Free shuttle to mall and airport terminal. Complimentary onsite parking. Approximately 5 miles from Base Dos (10-12 min drive time) on the PanAm Highway. Conference room available (~18'x18'). Free Wireless Internet throughout (~10 Mbps).
Point of Contact: Lucía Bolaños: lbolanos@ramadaherradura.com 
(506) 2209-9823
Hotel is a colonial-style hacienda set on a 30 acre coffee plantation. With unique architecture and elegant antiques, luxury hotel in features captivating grounds, exceptional service and a relaxing ambiance. High-end hotel accomodations. Excellent gym and spa on site. Located near the Pan American Highway, but isolated from any other nearby restaurants and businesses; about 5 miles from Base Dos. Conferencing space available but not for continuous 4 weeks
Point of Contact: Andrea Ulloa: Andrea.Ulloa@marriotthotels.com 
(506) 2298-0855
Marriott Residence Inn (San José Escazu):
We stayed at the Residence Inn during the site survey trip. A modern (2 yrs old), quiet hotel near newly-developed business district (Escazu). Typical hot breakfast included. Modest size exercise room and swimming pool on site. Complimentary parking. Spacious guest rooms with full-size refrigerator, dishwasher, 2-burner stove and microwave. Located in Escazu suburbs approximately 10 miles from Base Dos. Daunting morning and afternoon rush hour traffic to reach beltway, then PanAm Highway. Very attractive hotel but road traffic and distance from the airport would make it difficult. Conference room available (20'x20'). Speed-tested free wireless internet (~1 Mbps). Government rates available.
Point of Contact: Adriana Aguilar adriana.aguilar@residenceinn.com 
(506) 2588-4306
---
MEDICAL SERVICES: Costa Rica has a national health system and also privately-run facilities; both types are of excellent quality.
http://internationalliving.com/countries/costa-rica/health-care/ 
www.medicaltourismco.com/Costa Rica/
Rental Cars: Budget: http://www.budget.co.cr/
Vicente Castro- Rental Agent : vcastro@budget.co.cr
All major rental car companies are represented at San José Airport. We rented from Budget as they had the lowest UCAR Corporate rate and would honor the UCAR key code discount daily rate. We did purchase the full coverage insurance and paid for the additional driver. We would need to explore/negotiate if the full corporate package is honored by any of the contract rental companies. 
Cellular Telephones:
ATT International service is available in Costa Rica ($1.99 USD/min intl roaming charge). Cellular service (GSM 1800 band) used to be a monopoly of the national telecommunications provider (ICE:http://www.grupoice.com/wps/portal/Telecom) Prepaid cell phone service is available through Kölbi mobile (starter kits available for approx ₡15000 CRC= $30 USD)  Other providers, like Movistar are beginning to provide service.
Industrial Gases: CeNAT has access to cryogenics and other supplies 
San José Yellow Pages: http://www.telefonicaamarilla.com/
---
CONTACT INFORMATION 
Juan Santamaría International Airport:
Operations Manager (AERIS) Security/Operations Director 
César Tello Juan Belliard 
(506) 2442-2139, 3361, 2858 (506) 2442-2858 
htello@aeris.cr jbelliard@aeris.cr
SJO Tower Chief 
Eugenio Coto 
(506) 2442-2840
Base Dos: DGAC (Civil Aviation) 
Chief, Air Operations Manager- Air Navigation 
Capt Alex Romero Kenneth Jackson 
alexromero@msp.go.cr kjackson@dgac.go.cr 
(506) 2441-2605 (506) 2231-4924
CeNAT:
Research Coordinator Director General 
Cornelia Miller Eduardo Sibaja 
(506) 2519-5835 ext. 6014 (506) 2519-5834/5835 
cmiller@cenat.ac.cr edsibaja@itcr.ac.cr
Environment Affairs Coordinator Financial Director (FunCeNAT) 
Ing. Allan Campos Gustavo Otarola 
(506) 2519-5700 ext. 6010 (506) 2519-xxxx 
acampos@cenat.ac.cr gotarola@cenat.ac.cr
AeroServicios (FBO) (www. aeroservicioscr.com) 
Operations Manager 
Luigi Martínez 
luigi.martinez@aeroservicioscr.com 
(506) 2443-4260
Accomodations:
Ramada Plaza Herradura 
Point of Contact: Lucía Bolaños: 
lbolanos@ramadaherradura.com 
(506) 2209-9823
Marriott Resort & Spa 
Point of Contact: Andrea Ulloa 
Andrea.Ulloa@marriotthotels.com 
(506) 2298-0855
Marriott Residence Inn- San José Escazu 
Point of Contact: Adriana Aguilar 
adriana.aguilar@residenceinn.com
(506) 2588-4306
---