Airborne Oxygen Instrument
Short Name or Variable Name
AO2
The NCAR Airborne Oxygen Instrument measures O2 concentration using a vacuum-ultraviolet absorption technique. AO2 is based on earlier ship-board and laboratory instruments using the same technique, but has been designed specifically for airborne use to minimize motion and thermal sensitivity and with a pressure and flow controlled inlet system. To achieve the high-levels of precision needed, AO2 switches between sample gas and air from a high-pressure reference cylinder every 2.5 seconds. Atmospheric O2 concentrations are typically reported in units of one part in 1,000,000 relative deviations in the O2/N2 ratio, which are referred to as "per meg."  AO2 has an in-flight precision of +/- 2.5-4.0 per meg on a 5 second measurement, dependent on thermal and motion conditions. The instrument includes an internal single-cell CO2 sensor (LI-840) which is used to correct the O2 measurements for dilution by CO2, and for scientific purposes.  The AO2 system consists of a pump module, a cylinder module, an instrument module, and a dewar.
The system as used during HIPPO flights on the GV is shown in the following photograph:
Measurements Provided: Concentration of atmospheric oxygen relative to atmospheric nitrogen, in units of "per meg" (or 0.0001% or 1/1000000) deviation from a reference value, and concentration of atmospheric carbon dioxide as mole fraction in dry air in ppm.
Measurement Characteristics: 
Overall estimate of uncertainty: +/- 5 per meg
Response time: 0.4 Hz (raw data sampled at 10 Hz) for sensor, but mixing in inlet and trap volumes results in a 20 s smoothing window.
Precision: 2.5-4.0 per meg (5 s integrated measurement) dependent on aircraft motion and thermal conditions.
Other measurement characteristics (comments on signal/noise, bias limits, etc):

O2 measurements are relative to the Scripps O2 Program O2 scale, with zero relative to a stored reference sample of air.
CO2 measurements are available both on the Scripps O2 Program CO2 scale or the WMO CO2 scale.
History of Significant Changes: AO2 flew on ACME-07, START-08, all 5 HIPPO campaigns, ARISTO-2015, ORCAS, and all 4 ATom campaigns.  Mid-way through START-08, the non-pressure-controlled 1/4" Synflex inlet tube was replaced with a pressure-controlled 1/8" stainless tube, which fixed a pressure-dependent inlet surface effect problem.  The earlier data have been corrected but have greater uncertainty.
Examples of Measurement: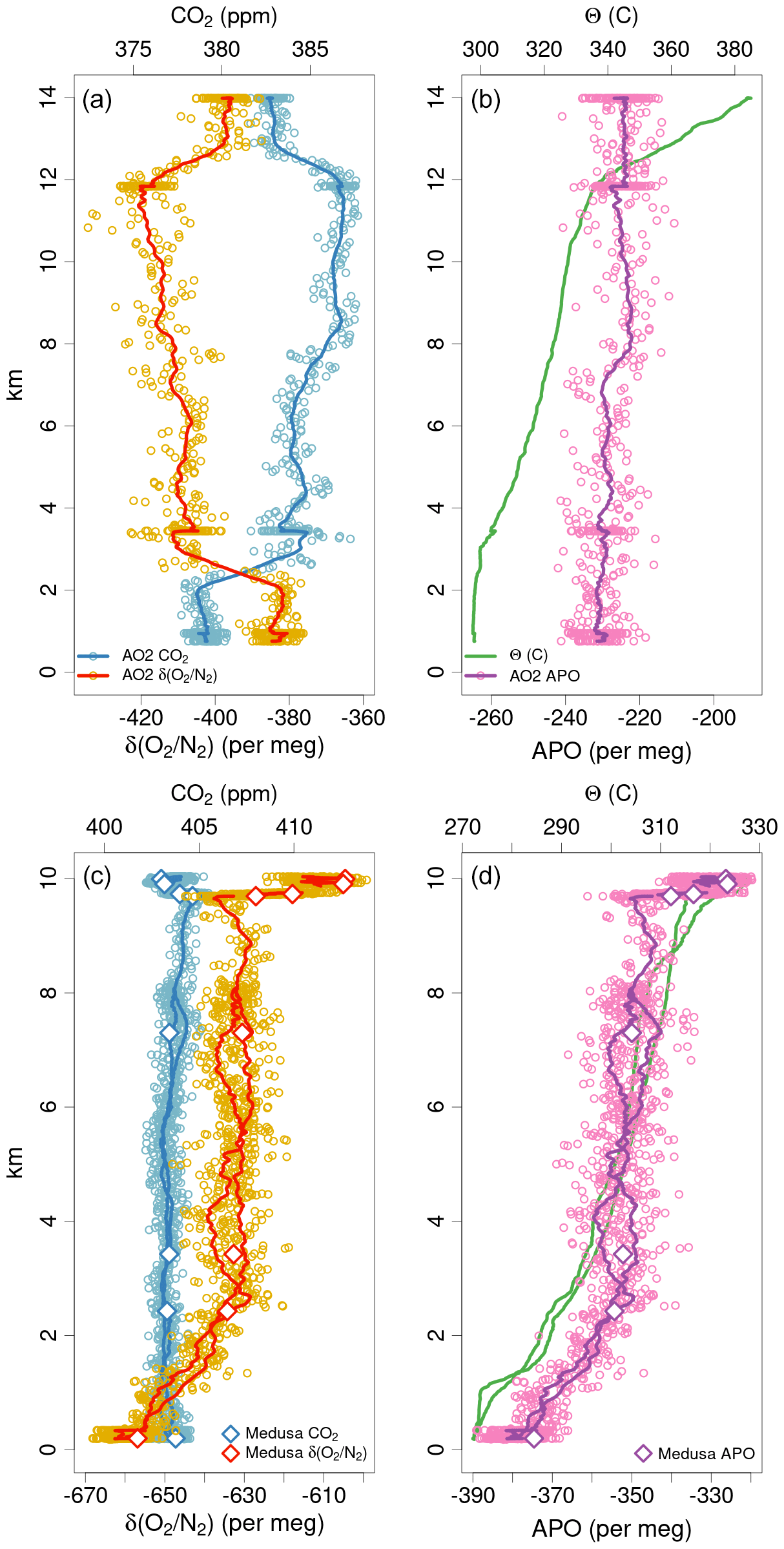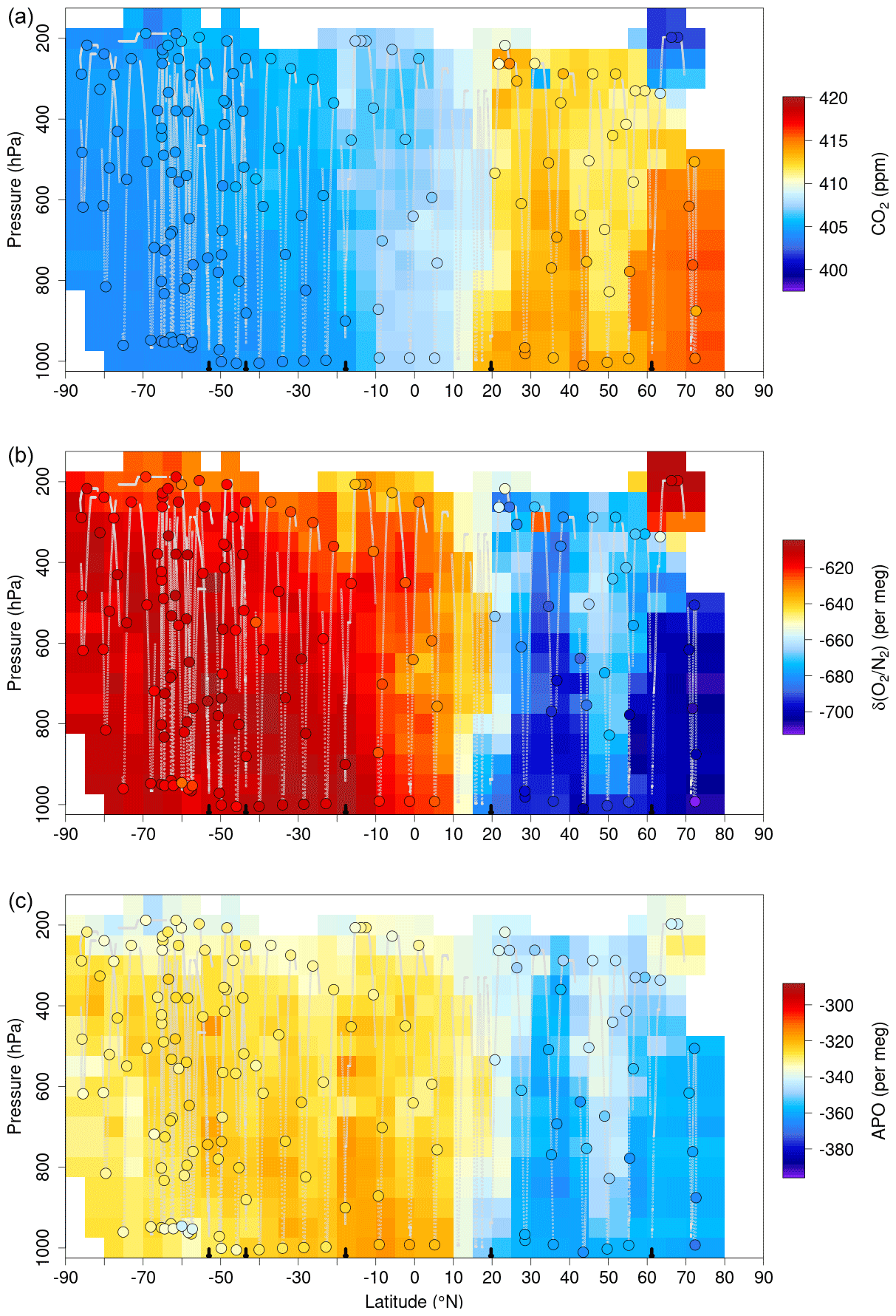 AO2 is described in:
Stephens, B. B., Morgan, E. J., Bent, J. D., Keeling, R. F., Watt, A. S., Shertz, S. R., and Daube, B. C.: Airborne measurements of oxygen concentration from the surface to the lower stratosphere and pole to pole, Atmos. Meas. Tech., 14, 2543–2574, https://doi.org/10.5194/amt-14-2543-2021, 2021.
Calibration Methods
Four high pressure reference cylinders are carried inside the instrument for calibration. High span and low span gases are analyzed every ~50 minutes for calibration. O2 and CO2 values on established scales are assigned to these field cylinders by the NCAR O2 / CO2 Calibration Facility.
Lead Contact
Britt Stephens
Typical Sampling Rates
2.5 seconds