LIE
PROJECT DATES
03/01/1967 - 04/30/1967
Project Location
Line Islands
PROJECT DESCRIPTION
During March and April 1967, field parties from NCAR and other meteorological research organizations, universities, and governmental agencies established research bases in the Line Islands, a group of small atolls more than 1000 miles south of Hawaii. Some 80 to 100 people -- scientists and construction and support personnel -- were in the Line Islands during the period of the Experiment. Quarters were established and research facilities set up in World War II barracks on Palmyra Island, in a recently abandoned Air Force camp on Christmas Island, and on Fanning Island in an old cable station that was leased for a research base by the University of Hawaii. From these three islands and from aircraft and ships in the vicinity, observation groups collected one of the most comprehensive sets of meteorological data in the oceanic part of the Equatorial Trough Zone for a variety of basic studies.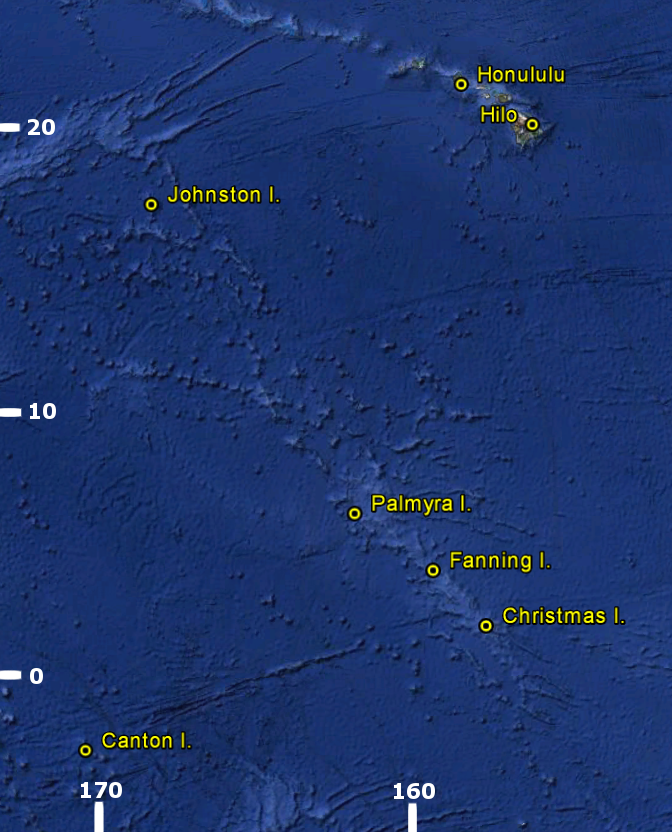 Scientific Objectives
The goals of the Line Islands Experiment can be described in three broad categories:
To provide a data sample for basic observational studies of meteorological phenomena in the oceanic portion of the Equatorial Trough Zone. However, past data in this region have the crucial deficiency that they are uncorrelated, and/or that much of the atmospheric data comes from the vicinity of large islands or continents -- introducing complicating effects that, in the primitive state of our knowledge, are difficult to account for. The Line Islands program has provided the first comprehensive data sample in the oceanic Equatorial Trough Zone -- far from continents or significantly large islands -- that combines adequate satellite and meteorological data for a variety of basic studies.
To provide a meteorological data sample with which to evaluate comprehensively cloud photography performed by the ATS-1 synchronous satellite.
To serve as a pilot program for more extensive tropical meteorological experiments (i.e., TROMEX) in the future.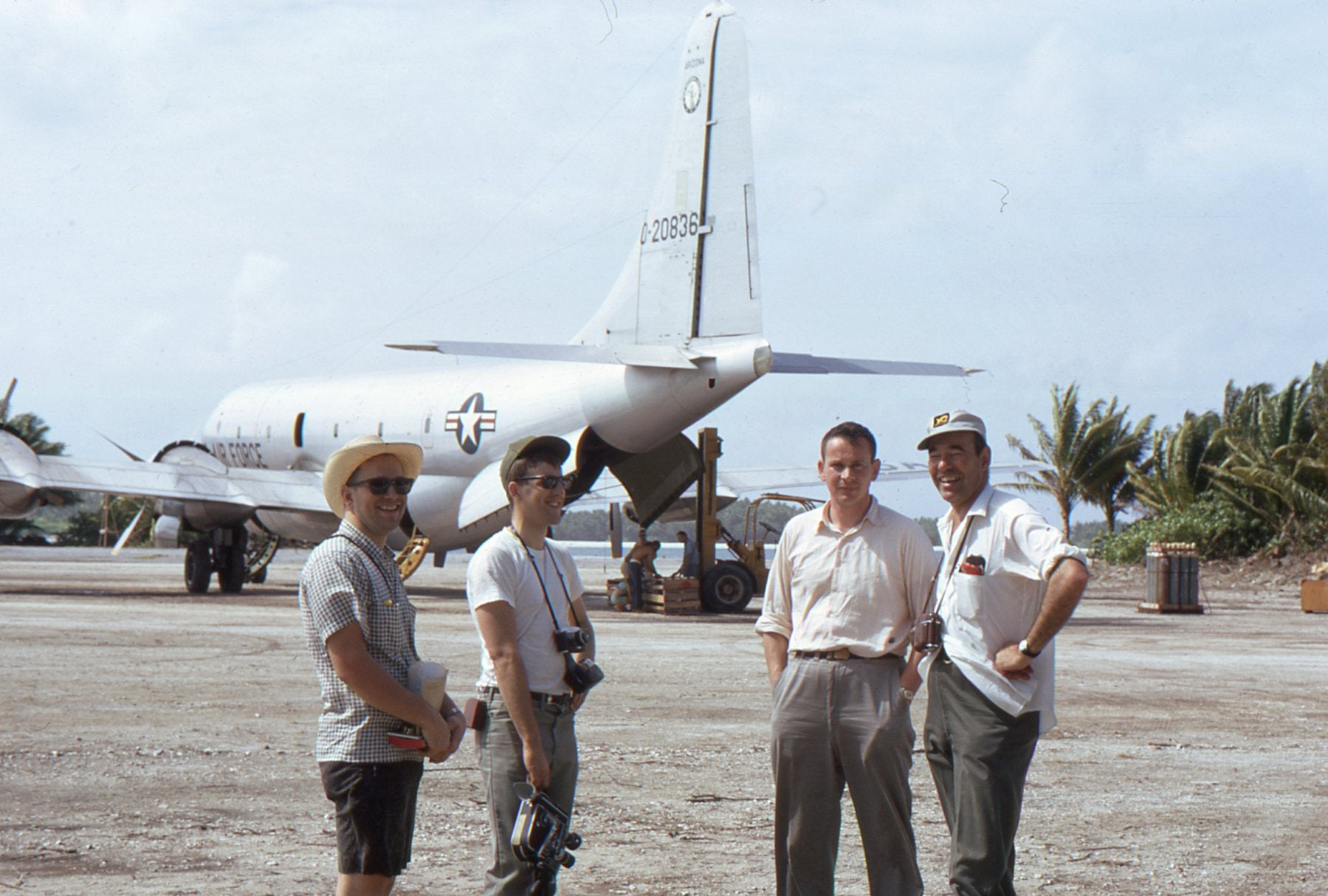 Facilities
During LIE two ships participated in making both surface and upper air observations, photography, and oceanographic measurements (the USCGS Surveyor and the Weather Ship II). There were 5 aircraft that participated in LIE (NCAR Queen Air; U.S. Navy WV-3; USAF B-47; Woods Hole Oceanographic Institution C-54Q; and Air National Guard C-97). In addition, the following observing sites and respective instrumentation in the Line Islands contributed to LIE:
| | |
| --- | --- |
| Palmyra | U.S. Army surface site; Causeway site; Barren Island site; USAF Upper Air Site; Radar; Photography; Ground-based radiometers; Airstrip 14 raingauge network; Tritium analysis; Gravity measurements; and Atmospheric electricity. |
| Fanning | U.S. Army surface site; Robitaille.s Beach; USAF Upper Air site; Photography; 17 raingauge network; and lagoon surface temperature. |
| Christmas | U.S. Army surface site; London Site; New Camp; Aeon Point; USAF Upper Air site; Double-theodolite pibal site; Gravity measurements; and Precision wind data (towers). |
In addition, a special Hawaiian photogrammetric study (ground-based camera network) was established on Mt. Haleakala, Maui, for the purposes of determining cloud motion and development from ATS-1 satellite photo sequences to support LIE.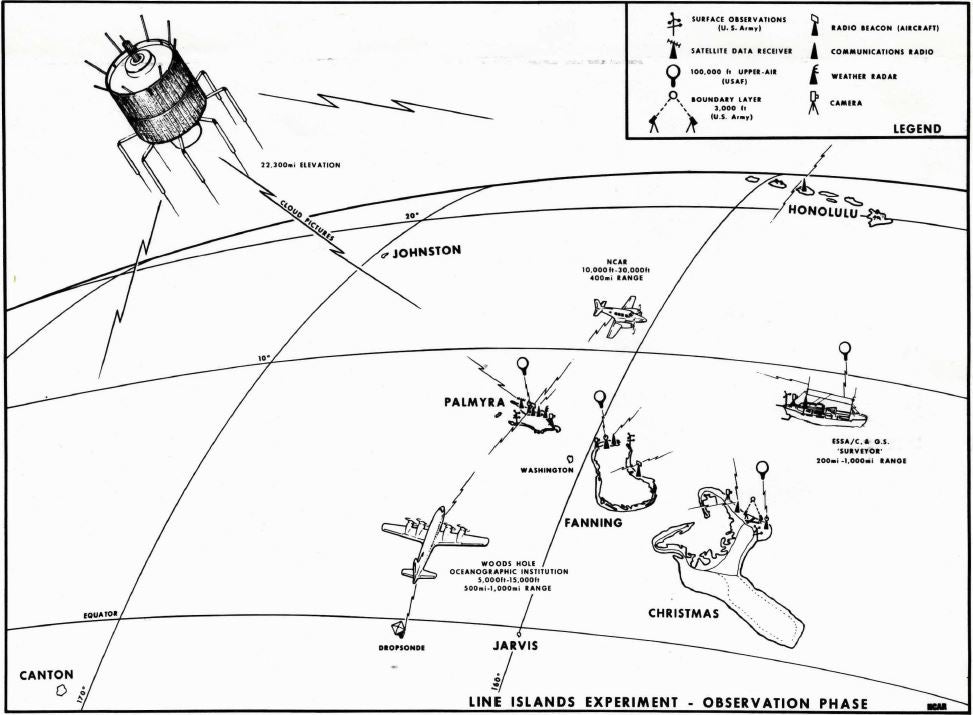 All photos copyright University Corporation for Atmospheric Research unless otherwise noted.
CONTACT INFORMATION
Principal Investigators:
Project Manager:
Data Manager: